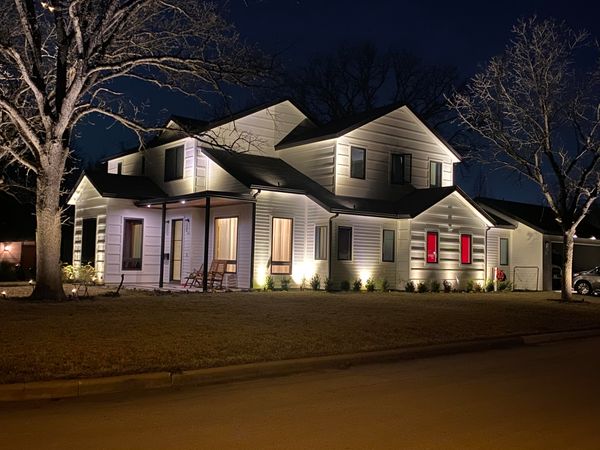 It's hard to beat the feeling of being outside in the evening in the summer months, especially when summer nights in Austin, Texas, are filled with incredible outdoor activities. You can take advantage of those evenings by extending your outdoor fun without worrying about your safety or security. With outdoor lighting for your home, you can ensure that your family and guests enjoy their nights out. A well-lit home creates a fabulous and relaxing ambiance that can uplift your spirits.
Let's look at some outdoor lighting strategies you can use this summer to keep your family and visitors happy and comfortable in your outdoor living area.
Pool Lighting for Fun Summer Night Swims
A dip in your pool is the ideal way to spend a summer night. To enhance this experience, you can opt for pool lighting. Pool lighting is a great way to make your pool parties even more exciting.
In-Ground Lights for Pool Patios
In-ground lights can be used for various things, like nighttime swimming, special events, celebrations, and even just relaxing with friends and family. They also help enhance the safety of the pool area, especially on the deck, where swimmers can trip and fall.
In-ground lights are a perfect choice since they don't have a blinding light that can irritate the eyes and cause tripping. They're durable since they are well protected from elements and are directly installed into pool patios or decks.
Moonlighting to Create Atmosphere
Illuminating your pool's deck from above creates a perfect atmosphere for relaxation and for having fun. You can use nearby trees, roof soffits, or gables to install the lights. Moonlighting mimics the moonlight effect that creates a perfect ambiance for a night swim. It also gives your pool area a fantastic feel, which can be perfect for a romantic evening.
If the lights are installed on trees, they cast the shadows of branches and leaves onto the ground. This creates a sense of intrigue and wonder in your space.
Highlighting Pool Water Features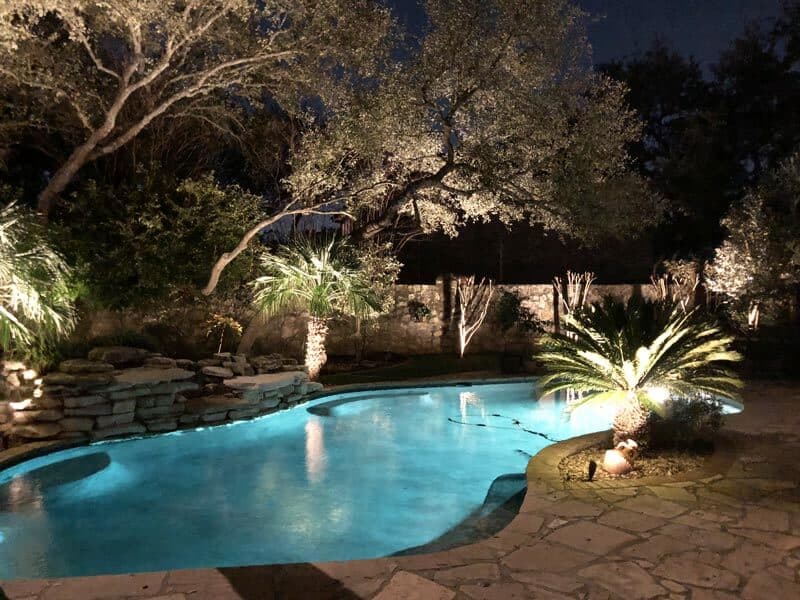 If you want to add some extra pizzazz to your pool, you can try lighting up the water features. You can never go wrong with perfect lighting if you wish to accentuate the natural beauty of the water or make a statement with unique water features.
Pool water features can range from simple fountains to elaborate cascades. You can use underneath lighting if you want to add a subtle touch to these features. Also, a wash light installed at the pool's edge or on trees creates a dramatic effect. This helps cast a flood of light on a waterfall, highlighting its intricate details and showing off the beautiful water movements.
Illuminating the water features will create a tranquil ambiance that will help your family or guests enjoy their summer nights.
Highlight Your Garden's Pathways
The purpose of pathway lighting is to provide safety and visibility for your family and guests. Lighting your pathways allows them to take calming strolls in your yard without stepping on your precious plants or tripping into things like roots. Furthermore, path lighting defines flower bed outlines and helps people avoid uneven ground, which can cause accidents or damage your plants. Path lights can also add a visual appeal, an inviting warmth, and a relaxing ambiance.
There are a variety of ways to light up your pathways at night.
Garden Lights
These lights have a canopy that helps reflect light on adjacent paths and garden beds. Garden lights help reduce the use of many lights on the pathway and are cost-saving. 
Downlights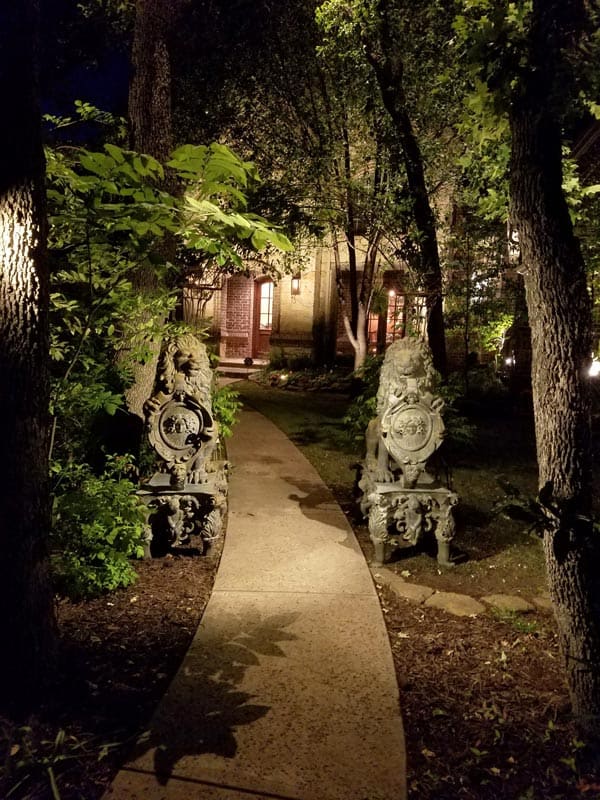 You can never go wrong with down lights to illuminate your pathways. They focus the light downwards on the paths and help light a large area. You mount them on tree branches or trunks for a more glamorous look.
Ensure you place the light farther away from the pathway to illuminate a larger area perfectly.
Bollard lights
Your summer night will never be the same when you use bollard lights for your path lighting. This is because these lights are bright enough that you only have to place them at the beginning and end of walkways.
In addition, bollard lights have a 360–degree light spread to ensure that your guests keep off your plants but also allows them enjoy the spectacular view of your garden.
Flush Lights
Flush lights are installed directly on the surface of your path to illuminate light upwards. These lights illuminate a wider area, making it functional and stylish.
Flush light will be a perfect choice if you have stairways on your garden paths because you can fix them directly into the stairs to help illuminate them to enhance safety.
On pathways, they create a calming and welcoming atmosphere that makes people feel at ease, which everyone needs during the hot season.
Lighting Your Patio
Lighting your patio is a great way to make your property stand out from the crowd. When done correctly, makes your deck safe and comfortable, adding a sense of security to your property.
Whether you want to add nighttime security or illuminate your patio after dark, lighting can help create the perfect summertime chillin' ambiance. You can achieve this by using:
Wall Lights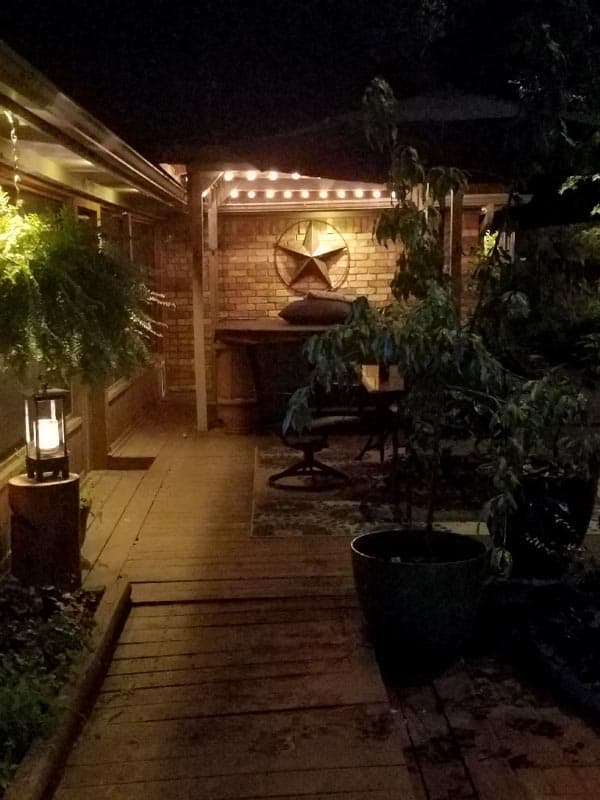 Wall lights are a perfect way to add lighting to your patio, especially if you have a more decorative style. They can act as an accent piece that adds interest without overpowering. In addition, they can be used as a focal point that draws the eye of passersby.
Wall lights are also excellent for your patio since they bring attention to your home's beautiful architecture. They create the mood for evening meals and chats since they do not shine light directly in your family or guest's eyes.
The lights work well for patios as they are attached to the home, bringing attention to the space and the beauty of your home's architecture.
Hanging Lights
Hanging lights enhance the aesthetics of your patio. They are perfect for covered patios or outdoor dining spaces. These lights brighten and add character to these places. They also provide an elegant touch to any décor on your patio, which can bring a perfect ambiance, especially for romantic dinners.
If you don't like how wall lights appear or your patio doesn't have enough space, hanging lights are a terrific option.
Create Your Perfect Summer Get Away With Gorgeous Outdoor Lighting in Austin, Texas
It's summer, and we're just itching to stay up with family and friends. The good thing about outdoor lighting is that you can create the perfect summer getaway in your compound.
At Enhanced Outdoor Lighting & Design, we're dedicated to giving you the best summer experience in your home in Austin, Texas. We can help you create gorgeous outdoor lighting that will make you forget all the summer extremities. Our experts will help you develop the best outdoor lighting to add to your home's curb appeal. Call us for more information. You can also contact us through our website for a free estimate.