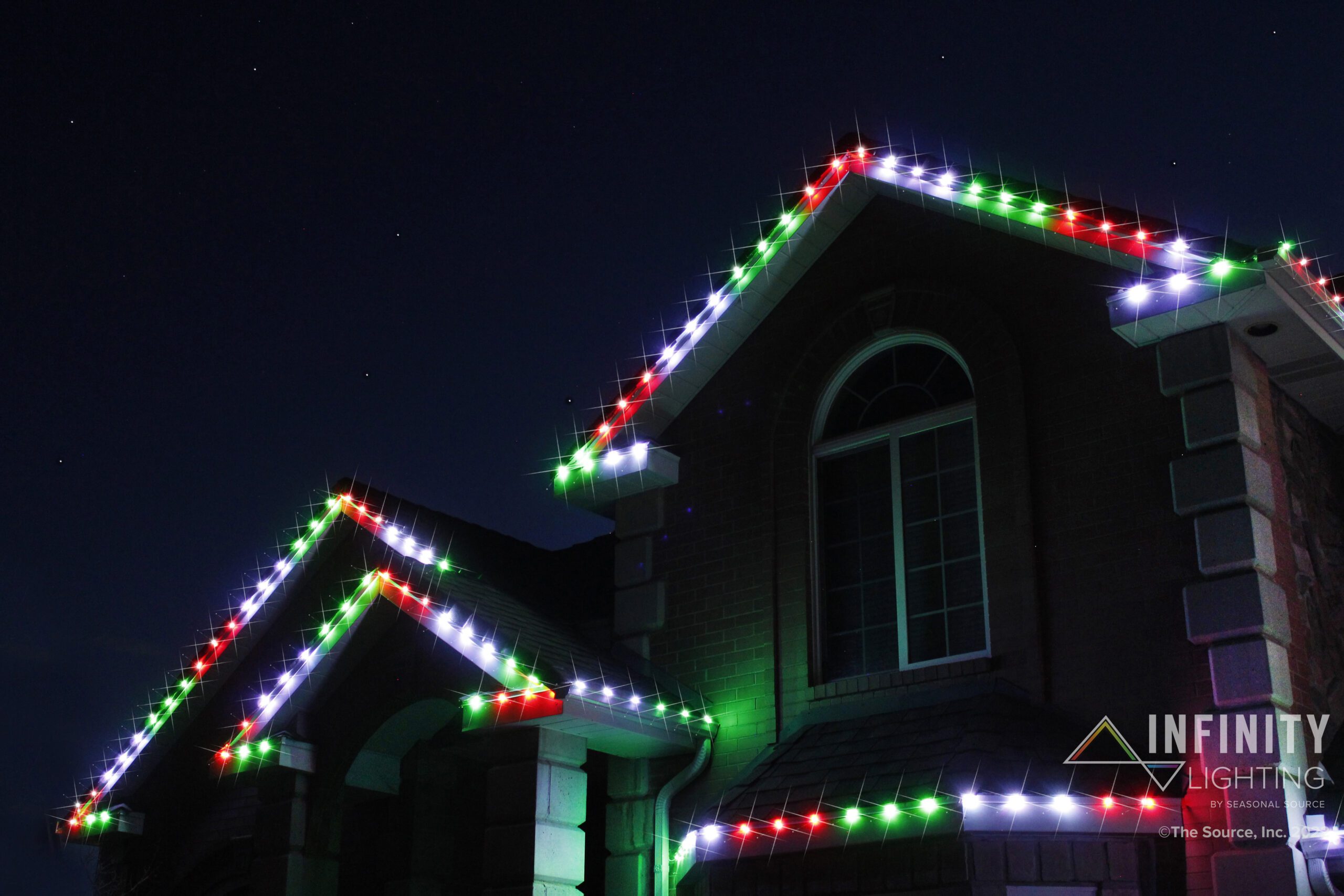 Permanent Christmas Lights in Austin & San Antonio
Every year, 94% of Americans climb a ladder to hang Christmas lights on their roof in preparation for the biggest holiday of the season. While this time-honored tradition brings a festive feel throughout neighborhoods across the country, there is an inherent risk. Safer America reports that 81% of ER visits that happen during the holiday season are in some way related to the hanging of Christmas lights.
Thankfully, the trusted team at Enhanced Outdoor Lighting & Design has found a solution to the woes—and risks—of hanging Christmas lights. We are proud to introduce the newest collaboration with our team and the incredible minds behind Infinity Lighting.
What Is Infinity Lighting?
Infinity Lighting is a new brand of permanent Christmas lights that provide bright, beautiful, and customizable lighting options for both homes and businesses. This one-of-a-kind, low-maintenance, exterior lighting system is installed on the gutter line or fascia of your home and provides gorgeous LED lighting all year round.
Infinity Lighting not only eliminates the hassle and worry of hanging Christmas lights, but it is also fully customizable. Homeowners can change the colors of the lights depending on the season or their mood using a smartphone. Express yourself in a brand new way and make your home the talk of the neighborhood with Infinity Lighting by contacting the trusted outdoor lighting team at Enhanced Outdoor Lighting & Design today!

Here is a closer look at this incredible new lighting solution.
Benefits and Advantages of Installing Permanent Outdoor Lights
Permanent outdoor lights offer a range of benefits including but not limited to:
Low Maintenance: Install, Forget, and Enjoy
Permanent LED lights by Infinity Lighting have all the durability of LED outdoor lighting coupled with the festive and majestic look of Christmas lights. With an impressive lifespan of 4,000 hours and incredible durability, once installed, you can enjoy them for a long time.
No more will you have to worry about replacing that one annoying bulb that seems to go out every other week or getting out the ladder to install and then take down your Christmas lights. With Infinity Lighting, your Christmas lights are up all year round—but fully in your control.
Weatherproof
Texas is known for extreme heat during the summers and sudden crisp temperatures during the winters. On top of that, storms can charge through the area and wreak havoc on outdoor living spaces and homes.
Unlike Christmas lights, which suffer tremendously in extreme temperatures, permanent Christmas lights have the durability of LEDs. When the temperature starts to drop, LED lights only become more energy efficient and they operate unhindered even in extreme heat. And, because these lights are installed directly into the gutter or fascia line, they even help increase the durability of these structures.
Invisible During the Day
Christmas lights sparkle throughout the night, creating a sense of awe and wonder. But when the sun comes up, homes are left with unsightly wires hanging from the roof.
Infinity Lighting is installed directly on the house so that the wires are hidden. Therefore, they aren't visible during the day but can be seen shining at night.
Energy-Efficient Low-Voltage LED Lights
One of the best parts about permanent Christmas lights is that they use LEDs. LEDs are not only renowned for their incredible life span, but they are also highly energy-efficient.
According to the Department of Energy, on average, LED lights use about 75% less energy than traditional incandescent bulbs, helping save homeowners on energy costs.
Comes With a Manufacturer's Warranty
All Infinity Lighting products are backed by a manufacturer warranty, protecting them for 5 years after the date of purchase. This warranty covers the cost of the replacement of the product, ensuring that your investment is protected for years to come.
Controlled by Smartphone App
One of the best parts about Infinity Lighting's permanent Christmas lights is that they can be controlled by an app on your smartphone. When you want to celebrate birthdays or other holidays, you can easily change the lights to create an appropriately festive environment.
Through the app, you can also plan lighting sequences in advance. Perhaps you want pink and red lights for Valentine's Day or rainbow lights for Pride Month, or you want to design your ideal Christmas display ahead of time. These plans can be set and customized through the app, so all you have to do is plan it out, hit the confirm button, and enjoy.
Never Hang Outdoor Holiday Lights Again
Say goodbye to horrible dangling wires and the weary thought of hanging Christmas lights every year. Forget about the frustration of finding out that an entire strand of lights needs to be replaced after you have already strung them on your roof.
Instead, invest in the beauty of professionally installed permanent outdoor lights, reducing the risk of accidents and reducing holiday headaches.
Commercial Applications of Permanent Outdoor Lighting
You want your business to stand out. During the nighttime, outdoor lighting helps draw the eye and sets the tone for your customer as they enter your doors. Put your business's best foot forward by investing in permanent outdoor lighting. These lights have the following benefits:
Increases the Visibility of Your Business and Adds Ambiance
Help your business stand out by installing permanent Christmas lights to highlight the intricate design of the top of your buildings. Not only will this increase the visibility of your business, but it will also improve the overall curb appeal, enticing customers to come inside.
One-Time Investment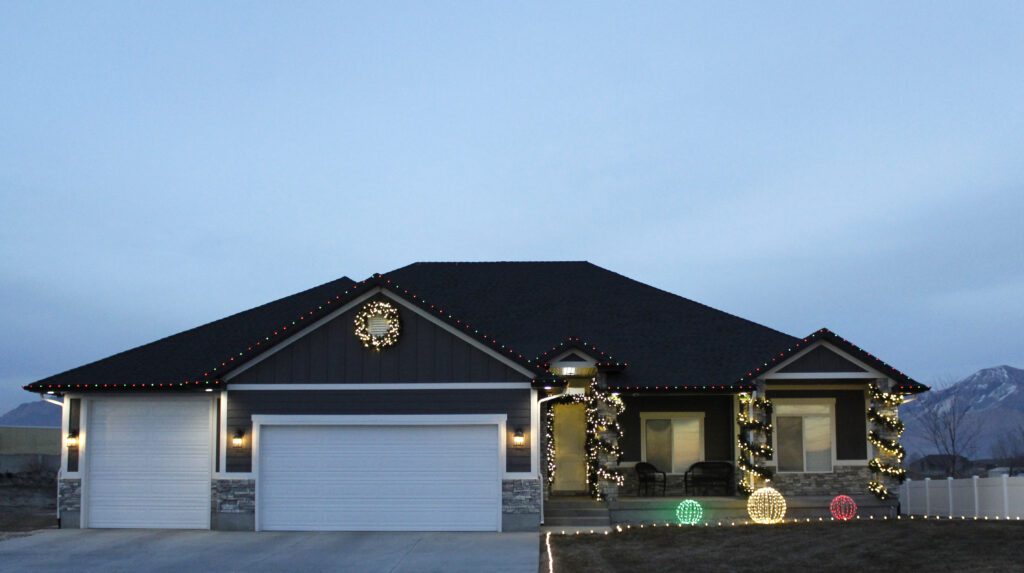 With Infinity Lighting permanent outdoor lights, when an individual bulb goes out, it can be replaced. That's why this lighting is the perfect solution to add a bit of flare long-term to your business. Infinity Lighting can help showcase the beauty of your storefront, provide better security, and ensure that customers can find you. On top of that, you won't need to worry about costly maintenance or replacement costs.
Enhance Promotions and Events With the Touch of a Button
With the customizability of these permanent outdoor lights, you can change up the colors and your business's overall style to match whatever promotion or event you have going on. If you are doing a special donation drive for breast cancer awareness, you can proudly display the colors on your building's roof line. Holiday sale to get people in the spirit of giving? Change those colors to red and green and complement them with decorations such as Christmas trees or garlands.
Whatever you are trying to promote, you can change these lights to fit your needs with a single press of a button. Now that is ingenuity in action!
Contact Us for Permanent Outdoor LED Holiday and Christmas Light Installation
If you are looking to boost the curb appeal of your home or business or save yourself the hassle of hanging up Christmas lights every year, you need to contact Enhanced Outdoor Lighting & Design today! Our newest partnership with Infinity Lighting is going to revolutionize the way the people of Austin and San Antonio Texas think about outdoor lighting and outdoor holiday lighting. Contact our team for more details on Infinity Lighting or to schedule an appointment to get started on your new outdoor lighting design.
Permanent Christmas Lighting FAQs
What Do Permanent Christmas Lights Cost?
Cost depends on how large your home or business is, as this will tell our team how much materials and labor is needed for installation. Thankfully, the installation process is relatively simple, which helps keep costs down. If you would like a free quote on your permanent Christmas lighting, contact us today!
How Long Do Permanent Christmas Lights Last?
The individual bulbs of the permanent Christmas Lights have a lifespan of about 4,000 hours. The durability and strength of the LEDs allow them to withstand Texas's unpredictable weather while continuing to operate at their highest capacity.
Unlike traditional Christmas lights that need to be fully replaced when multiple bulbs go out, we can replace individual permanent Christmas lights so that your home always looks its best.
Do Permanent Lights Add Value to Your Home?
While no data exists yet to show the exact dollar amount of value permanent Christmas lights bring to your home, they do help boost curb appeal and improve security. These benefits positively affect the value of your home.
How Much Do Christmas Lights Raise Your Electric Bill?
Every year, Americans spend on average about $16.48 extra on their electric bill every month due to Christmas lights during the holiday season. While this may not seem like a lot, it doesn't account for the time spent installing the lights or the cost of replacing broken strands.
In comparison, Infinity Light's permanent Christmas lights use low-voltage LEDS, helping homeowners save about 75% on their electricity bill. LEDs, unlike traditional Christmas lights, do not lose energy by emitting heat, and instead use almost every ounce of energy to provide light all night long. The best part is that they can be installed on the same line as your other outdoor lighting design and features, lowering installation costs and time.