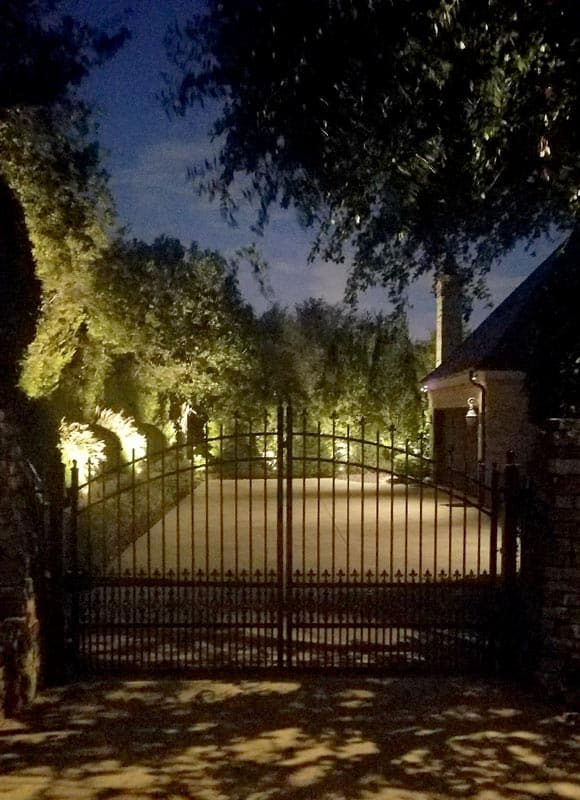 Driveway Lighting Design & Installation in Austin and San Antonio, Texas
There's nothing like driving up to your home after a long day at work or extended vacation and seeing it lit up in all its glory. For both you and your guests, your driveway serves as a grand entryway to your home and sets the tone for the rest of the property. If the driveway is improperly lit and dark, this entrance may be difficult for your guests to find or make the atmosphere feel eerie and unwelcoming.
Proper driveway lighting is essential to ensuring that your home has the warm, soft glow that welcomes and invites your guests and family inside. Our outdoor lighting and design team is dedicated to helping you elevate the look and feel of your San Antonio or Austin home. We use only the highest quality LED outdoor lighting fixtures to promote longevity and better energy efficiency. Here is more information on our driveway lighting services.
What Are The Benefits of Driveway Lighting?
Driveway lighting brings a lot of benefits to your property, including:
Creating a warm welcome for your family and guests.
Allowing you to see individuals coming up the driveway thus alerting you to approaching guests or intruders.
Outlining the borders of your driveway.
Revealing changes in elevation or potential tripping hazards for anyone getting out of the car.
What Are the Different Types of Driveway Lights?
Three different categories of lights can be used for driveway lighting. They are:
Transit Lighting
Transit lighting refers to driveway lighting that is mounted close to the ground. This can be done by either planting the bottom ends of the lights directly into the ground or mounting the lights on low-lying poles. Transit lighting is subtle but effective. They help you and your guests find their way around your driveway without being blinded by lights at eye level. They are great for defining the outlines of your driveway, helping individuals drive up the right path and not onto your yard.
Post Lighting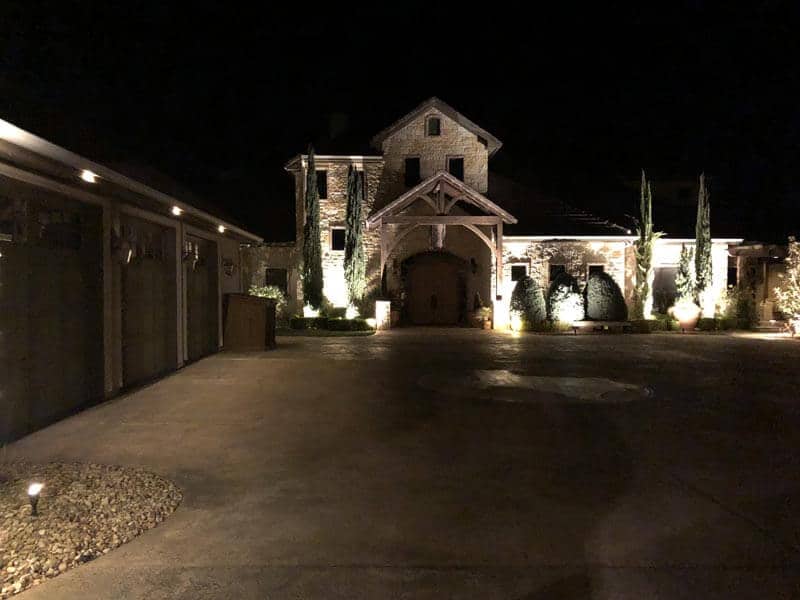 Post lighting sheds light over a wider area, allowing for greater visibility and theft deterrence. This type of driveway lighting is often mounted on poles that stand between three to four feet in height. Post lighting comes in a range of stylistic options so you can find the perfect kind for your home, whether that's a more traditional or modern look.

Post lights are most often used at the intersection of your walkway to your house and the driveway and the intersection of the main road and your driveway. These help guests see exactly where the entrances and exits are for both areas.
Path Lighting
Path lighting combines the elegance of outdoor lighting with practicality. It can help ease the transition from your driveway to the walkway leading to your home. These lights are perfect for showing changes in elevation, shining light on potential tripping hazards, and creating a border between your driveway and any flowerbeds or plants.
Create a Warmer Welcome With Professional Driveway Lighting
Our experienced outdoor lighting designers are excited to help you elevate the look and feel of your home. Installing outdoor driveway lighting not only creates a more pleasant welcome to your home but it also makes seeing the entrance to your property easier. It directs your family and guests safely up the driveway, ensuring that they don't accidentally drive into your yard or a nearby drainage ditch. Contact our team today for more information about our driveway lighting services or to schedule a consultation.