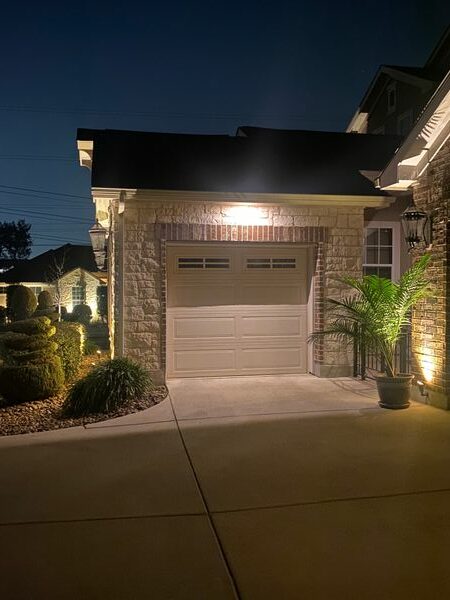 Outdoor Garage Lighting Services in San Antonio and Austin, Texas
A home's garage has many functions. It is one of the first things that many individuals see as they pull up to a house, making them an important visual feature. Many homeowners use their garage as the primary entryway into their homes. Others use the garage as their personal crafting space, working on older cars or other personal projects. Whatever you use your garage for, one thing remains the same, having proper outdoor garage lighting is a must.
The professional outdoor lighting team at Enhanced Outdoor Lighting & Design is well-known for enhancing the natural beauty of your home and landscape through our outdoor lighting services. We understand that not only should outdoor lighting work towards showing off the beauty of your property but it also is important for safety reasons, helping you and your guests navigate around your property. 
We offer unparalleled LED outdoor lighting services, including exterior garage lighting to ensure that your home not only looks good but is safe for your family and guests. Here is more information on our outdoor garage lighting services.
Shining a Light on Your Garage's Gorgeous Architecture
Some homes have the garage as a prominent feature of a home's curbside view. In these cases, you will want to show off your garage's beautiful stone or brickwork. This can be done through uplights, to help catch the more intricate details and create a strong visual appeal.
Outdoor Garage Lighting Ideas
Outdoor garage lights are a practical solution to ensure that you can see the beauty of the materials that make up your garage and provide safety from tripping hazards and potential intruders. Here are some creative outdoor lighting ideas from your team at Enhanced Outdoor Lighting and Design:
Accentuate the Garage Dormers With Proper LED Outdoor Lighting
The garage door dormer, which is the roofed structure, often including windows, that project vertically beyond the plane pitch of a roof. Dormers are an often overlooked part of your garage however, adding in some lighting can help create a visual layer that brings in the wow factor.
To ensure that the lights don't interfere with individuals sleeping or bring unwanted light into the house, our team will mount the fixtures at the gutter line and adjust the light to shine on the material of the dormer instead of inside the house.
Use Wall Sconces for the Immaculate Details of Your Garage Door
One of the most captivating parts of your garage is the door itself. Using wall sconces on either side of your garage door can help show off the details of the material of your garage door, tying it in with the rest of your home. Whether you have a wooden garage door or a carriage house garage door, having these types of lights will elevate the look of your garage and create a warm welcome for you to come home to.
Create a Modern Look With an Outdoor Porch Lantern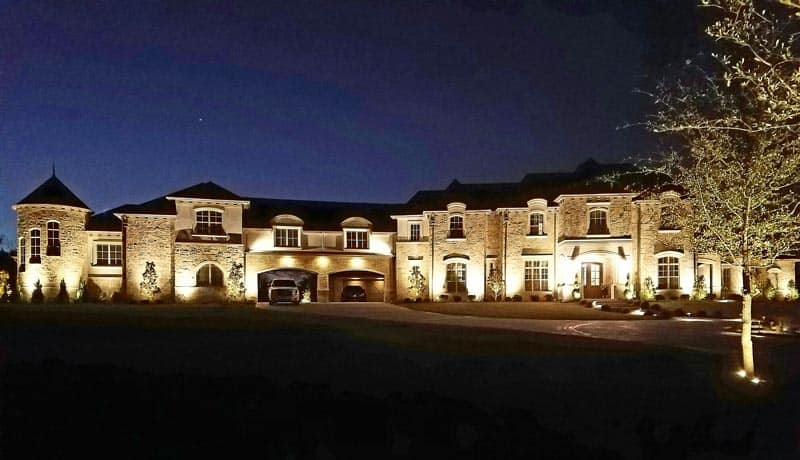 If you are looking to combine the styles of modernism with a nice twist, a porch lantern can do the trick. Simply hang the light in front of the garage to shine a light directly in front of the garage door. It can be paired with wall sconces to add extra light or stay on its own to create an eye-catching juxtaposition between light and shadow.
Creating a Safer Garage With Security Lighting
One of the biggest benefits of adding exterior garage lights is the added security and visibility around this important area of your home. As an entryway, it is important to be able to see what is around you, decreasing possible hiding spots for intruders and allowing you to spot any tripping hazards.
If your home has a detached garage, it is important to consider also adding pathway and driveway lighting, directing guests and your family members safely to your home. Not only does this ensure that they know where to walk to reduce the risk of trip and fall accidents, but it also helps keep individuals from stepping onto flower beds or your lawn. It also helps shine a light to catch would-be intruders, discouraging them from approaching your home as the light makes them too vulnerable and more likely to get caught.
Better Energy Efficiency With LED Outdoor Garage Lighting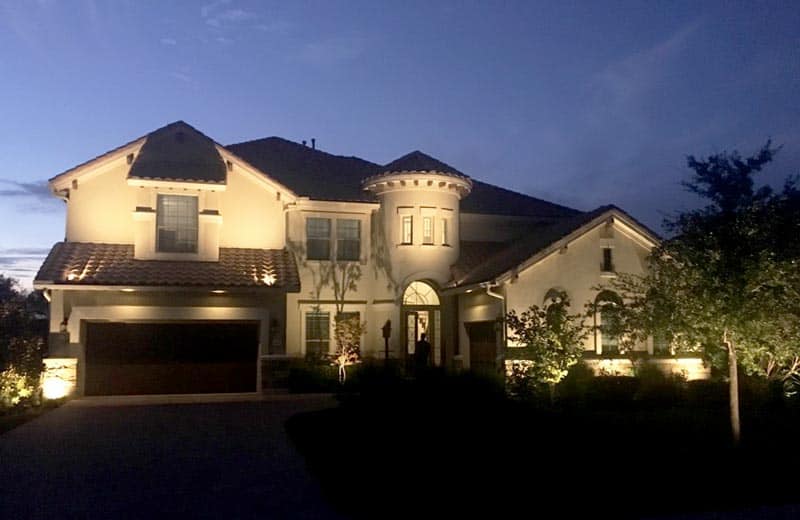 Enhanced Outdoor Lighting & Design is committed to protecting our clients' investment and our environment by promoting clean, energy-efficient lighting solutions. LED lights have an incredible lifespan of 50,000 hours, and in some cases can last up to 100,000 hours, which helps cut down on waste. Homeowners who invest in LED lights for their garage lighting can expect to save on energy costs, cut down on maintenance and replacement costs, and feel great knowing that they are supporting a healthier natural world.
Elevate Your Home's Curb Appeal With Outdoor Garage Light
The outdoor lighting professionals at Enhanced Outdoor Lighting & Design can help you enhance your outdoor spaces. Our design team has a keen eye and understands what it takes to show off the beauty of your property while creating functional lighting aimed at keeping your guests and family safe.  Contact our team today for more information on our outdoor lighting services or to schedule an appointment with our design team.