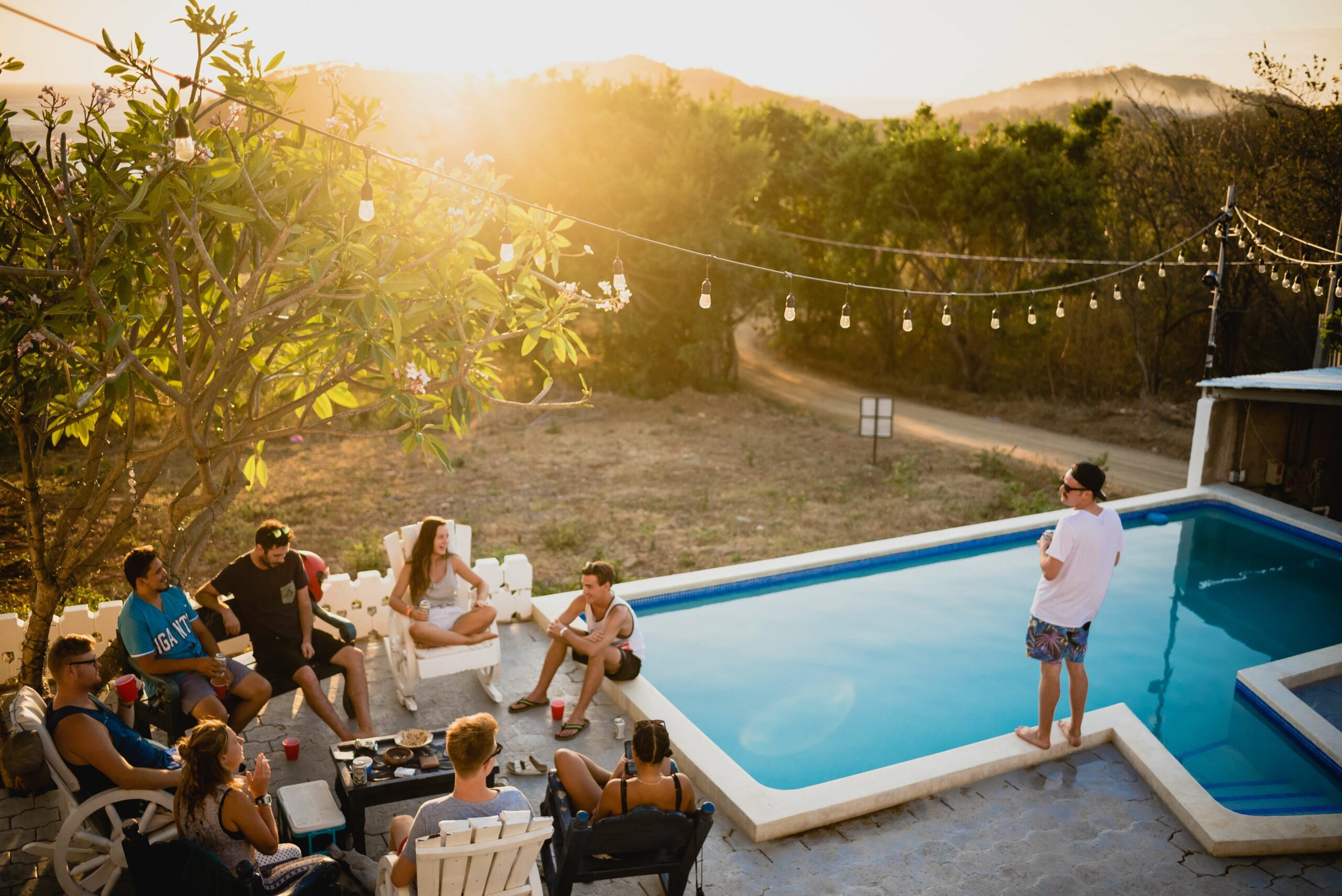 Landscape Speakers
There's nothing like going outside, sitting down in your garden or by your pool, and listening to music that resonates with your soul. For anyone looking to hear the music play crisply and clearly outdoors, Enhanced Outdoor Lighting & Design has the solution for you.
Our team recently partnered with Vista, a state-of-the-art Hi-Fi residential outdoor speaker system manufacturer. Vista's outdoor speaker systems are not bulky and will blend seamlessly into your landscape while delivering high-quality sound. You can liven up an outdoor party, set the tone for a romantic evening by the pool, or play the perfect playlist as you unwind with a glass of wine on your outdoor patio.
Here is more information on our unparalleled outdoor sound system services:
Elevating Your Outdoor Experience With Crystal Clear Sound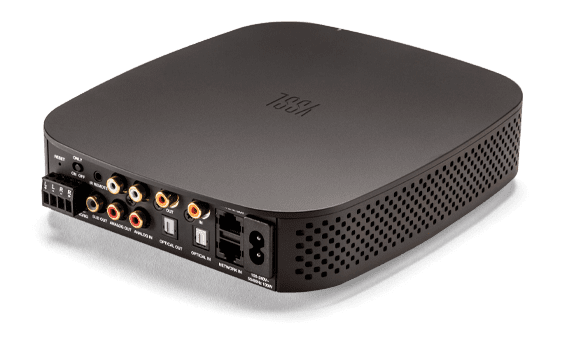 Enhanced Outdoor Lighting & Design understands that our community wants new ways to enjoy the outdoors. Outdoor cookouts and parties are commonplace thanks to the gorgeous year-round weather that Texas is known for. And since every party is better with music, most people set up portable speakers to play tunes outside. But the sound from these tiny speakers is often subpar.
Our solution to this problem is a low-voltage sound system that can be installed alongside your outdoor lighting to bring clear sound around your outdoor living space. No more listening to your favorite songs through the distorted sound of a portable or phone speaker. Instead, enjoy the songs you love with a fantastic quality that honors your favorite artists.
Why Should I Choose Enhanced Outdoor Lighting's Outdoor Speakers from Vista?
Enhanced Outdoor Lighting & Design went with Vista's sound system for several reasons.
1. It Brings Outdoor Entertainment to the Next Level
Outdoor get-togethers are a staple throughout the Austin and San Antonio communities. Whether it is a pool party celebrating the start of summer or a Texas Longhorns or San Antonio Spurs outdoor watch party, having clean sound helps elevate the atmosphere and excitement.
The Vista sound system can play music from your phone or outdoor TV, allowing you and your guests to hear the sound clearly no matter where they are on your property. This way, no one will miss the big touchdown or their favorite song because they stepped away from the speaker.
2. It Stays Hidden in Your Landscaping
Many homeowners are concerned about the bulkiness of outdoor speaker systems. But the professional outdoor lighting pros at Vista have solved this issue by creating speakers that deliver high-quality sound while blending in seamlessly with your outdoor environment. Designed in earth tones, the speakers meld nicely with your landscape, helping to maintain the gorgeous aesthetic you worked so hard to create.
3. It Adds Incredible Value to Your Residential Property
As a professional outdoor lighting company, we always put the value of our customer's property first. We are committed to never putting your property value at risk, which is why we craft our outdoor lighting designs with the utmost care. We want to elevate your space, not detract from it.
To honor this commitment, we went with Vista's Hi-Fi residential landscape speaker system due to its incredible sound quality, space-saving design, and ability to blend in with the landscape. The incredible design of this sound system adds value to your home, increasing your investment while allowing you to take your outdoor gatherings or alone time at home to the next level.
What Features Can I Expect From the Vista Outdoor Sound System?
The Vista outdoor sound system's best qualities are the top-quality VSSL-brand amplifier and enclosure that delivers sound to a targeted area. It also boasts the following features: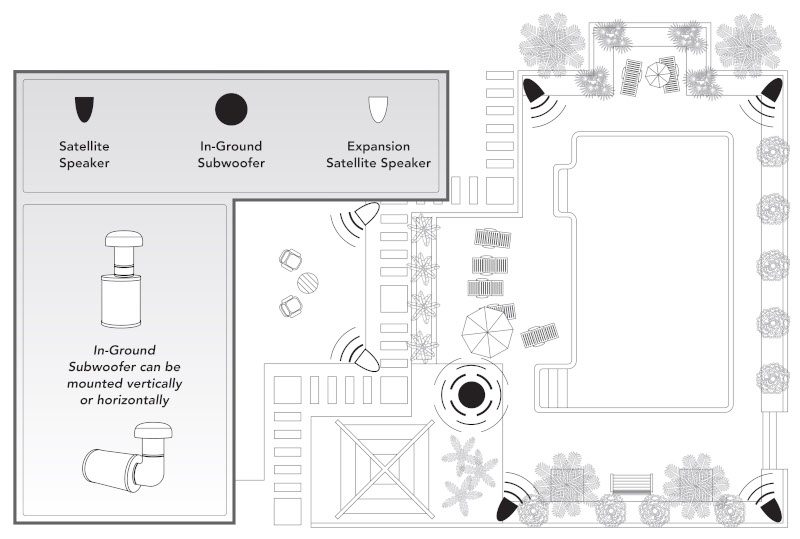 Wi-Fi & Bluetooth Amplifier:

Native streaming: Allows anyone to play their music on your amplifier—and no login or third-party apps are needed.
Integrates seamlessly with Bluetooth: It also allows integration of Siri, Voice Control with Google Home Assistant, Airplay 2, Chromecast, and Spotify Connect
Wi-Fi Capable

Waterproof Enclosure

No external antennas for a sleeker look
NEMA Type 3R, 3RX/IP24 Rated
Thermostat-controlled 24VDC Cooling fan to ensure it doesn't overheat
Proudly manufactured in the U.S.A

Built to Entertain:

Built from the inside out to ensure it can handle the harshest Texas weather conditions without loss of quality
ASA construction allows for each speaker to be UV resistant
Won't chip or peel
Can withstand temperatures running from -15 to 160 degrees Fahrenheit

Subwoofer:

10" (25.4 cm)Dual VC Long Throw Driver
PP Waterproof Cone with Rubber Sound
Magnet Structure: 33oz
Power Handling: 150W
Frequency Response: 40-85Hz + 3dB
SPL: 90dB at 1w/1m
PVC Bass Chamber
Turned Port with Flexible Rubber Elbow
Acrylonitrile styrene acrylate (ASA) top hat to withstand harsh weather conditions
Dimensions: 12.68" x 16.54" (32.42cm)
Can be mounted vertically or horizontally

Speakers:

4" (10.16cm) PP Waterproof Cone with Rubber Surround
Tweeter: 0.75" (1.9 cm) Marine Grade PEI Tweeter
Frequency Response: 80Hz-20kHz
SPL: 87dB at 1w/1m
Power Handling: 100w
Made with acrylonitrile styrene acrylate (ASA) to withstand harsh weather conditions
Comes with an 11" Ground Stake
Dimensions (DxLxH): 5" x 7.6" x 7.7" (without stake), or 12.7 cm x 19.3cm x 19.6 cm.)
Surround Your Outdoor Landscapes with the Music and Sounds You Love
We know that every yard is different. That's why Enhanced Outdoor Lighting & Design customizes every installation to ensure that crystal-clear sound reaches all areas of your yard without disrupting aesthetics. The best part is the Vista outdoor sound system can be easily installed alongside your LED landscape lighting, helping cut down energy costs and providing your home with one incredible investment. Contact our team today for more information on our outdoor landscape audio system installation or a design consultation.