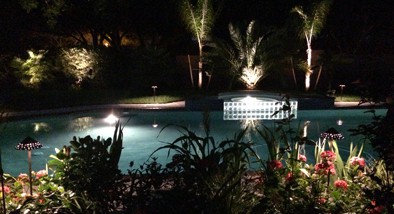 For many families, the pool is the heart of the home. It's the place where memories are made, smiles grace faces, and the laughter is endless. To get the most out of your pool, it is important to ensure that your family can enjoy it equally in the daytime and the night-time. Having gorgeous lighting that is geared towards safety can help.
The perfect lighting setup for your pool makes it safer for your family and can transform the pool environment. The dazzling lights play off the beauty of the crystal clear waters to create a wonderland. Need some ideas on how to best light your pool? The experts at Enhanced Outdoor Lighting & Design have some ideas that appeal to both safety and beauty.
Two Kinds of Pool Lighting
There are two main kinds of pool lighting — above-ground and underwater. Both play a huge part in the safety and beauty of your pool's night-time environment and, when used effectively, can create a captivating paradise.
Underwater Pool Lights
Without the proper pool lighting, swimming in the dark is extremely dangerous and can lead to serious injuries. To protect your swimmers during a nighttime pool party, it is important to invest in underwater lights for your pool so you can keep an eye on the swimmers. The lights bring attention to the walls and flooring of your pool so swimmers are aware of their surroundings and can avoid a major accident.
The Beauty of Underwater Lights
Underwater lighting makes your pool safer and creates a truly stunning atmosphere. Underwater light fixtures can stand out or blend in seamlessly with the pool's walls or flooring. Investing in colored lights will add a more playful feel to your pool, covering the water in gorgeous shades of a wide variety of colors. For example, if you are going for a tropical feel for your pool, you can set your pool's underwater lights to soft pink with hints of orange thrown into the mix. It will transform your pool's water to make it look like the sun is setting, giving a relaxed and comforting atmosphere.
Pro-Design Tip: If you have different areas to your pool, use complementary light colors. This will help create more depth and different visual experience for your guests while highlighting different parts of the pool. (This is also great for pools that have sections you'd prefer are off-limits to younger children. You can tell your children to stay in certain light zones, for example, stay in the green areas and avoid the areas where the waters are blue.)
Above Ground Pool Lights
There are hundreds of different variations of lights to choose from when lighting above and around your pool. From softer lights that create a relaxed atmosphere to more vivid lights that better illuminate the deck or patio around your pool, there are options to fit every pool owner's needs.
When it comes to effectively lighting your pool for both safety and beauty, mix both the vivid, eye-catching light and the softer lighting options. This will help keep swimmers aware of the edges of your pool, preventing them from falling in, and also creating a relaxing environment in other areas so your swimmers can unwind.
Lighting Pool Walkways
Pool walkways should always be illuminated. This helps bring attention to pool edges and reduce the risk of someone accidentally falling in or slipping on pool toys. Path lights are vivid enough to catch someone's attention while not being overpowering.
Pro-Design Tip: Avoid picking lighting fixtures that just look good. Choose weatherproof housing for the lights. It would be disastrous to invest in lighting only to have inclement weather or frequent splashing destroy your pool lights.
Lighting can also be effective in trees, patios, on gazebos, or the outside walls of your house. This illuminates the dangerous areas while avoiding fixtures within close proximity to the pool.
Additional Pool Lighting Tips:
Pool lights are necessary for your swimmers to stay safe when swimming at night. Make sure you focus lights on the more precarious areas of your pool, such as the ladders going in and out, the stairs leading in, and around the pool's edge. It's also advised that you use outdoor lighting, such as path lighting, to create a well-lit path from the entryway to your pool to the exit (if that exit has them going through the backyard.)
Pool Lighting and Outdoor Lighting Experts
When it comes to investing in a pool and outdoor lighting, choose a team that has your family's safety and pleasure in mind. Enhanced Outdoor Lighting & Design safety is always our number one priority. Our creative design team takes time to carefully plan out a lighting layout that is safe but also ensures that the environment is comfortable, visually pleasing, and will match the look you are aiming for. Whether that means adding a splash of drama to your pool's waterfall or creating a relaxing atmosphere to shed the cares of the day away, we can make it happen. Contact our team today for all of your outdoor or pool lighting needs!