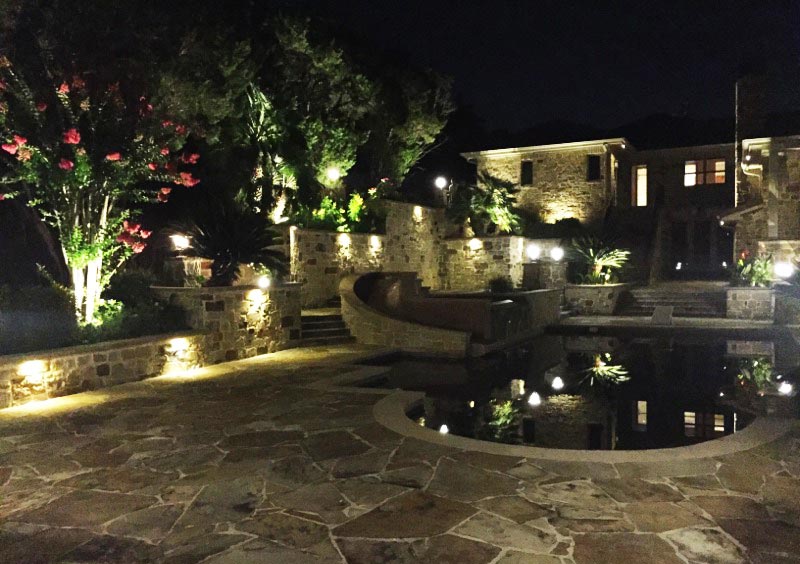 One of the biggest advancements in the outdoor lighting industry is low voltage lighting. With several benefits, including a longer lifespan and reduced energy costs, more and more individuals are looking into whether or not this option is right for their outdoor lighting needs.
At Enhanced Outdoor Lighting and Design, we use only the highest quality of low voltage lighting for our outdoor lighting design and installation services. Learn more about low voltage lighting and the advantages you can expect from this modern marvel of the outdoor lighting industry.
What Is Low Voltage Lighting?
Low voltage lighting uses a transformer to reduce the line voltage from 120 volts down to 30 volts. This allows homeowners to get the same amount of light as they would expect from line voltage lights with less energy consumption. Low voltage lighting typically uses around 12 to 30 volts.
Low voltage lighting is perfect for applications where light needs to be directed in hard to reach areas or be kept out of the way. Some of the most common applications for low voltage lighting include:
Recessed lighting for outdoor kitchens, stairs, or around fire pits
Pendant lighting to showcase seating and outdoor dining areas
Display lighting for sculpture or special plants
What Are the Advantages of Low Voltage Lighting?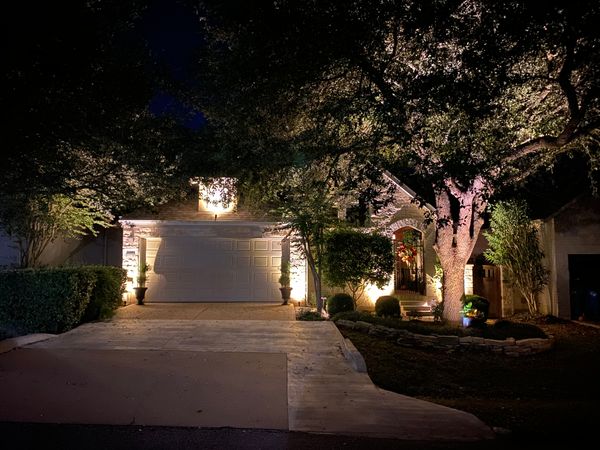 Low voltage lighting offers benefits that will help reduce your outdoor lighting budget and take less time to install. Here is what you can expect if you make the switch:
More Energy Efficiency With Low Voltage Lighting
Low voltage lighting is well known for its high energy efficiency. It helps homeowners save more money on their energy costs by reducing the amount of energy needed to light your outdoor areas.
On top of that, homes that use low voltage lighting rather than line voltage lighting also see an increase in their home's overall value, reduction of their carbon footprint, and more flexibility in where they install their lights. With more eco-friendly and higher-quality lighting, low voltage lights are a win-win scenario.
Low Voltage Lighting Doesn't Contribute Heat
Along with using less energy, low voltage lights put out less heat. Since these lights don't get as hot, they're safer to use around plants and significantly reduce the risk of a fire. On top of that, curious children or pets will also be safer as low voltage lighting doesn't have the same burn risk, keeping little hands and paws safe.
Low Voltage Lighting Is Versatile
Low voltage lighting can be applied almost anywhere. From your garden to your outdoor kitchen, your outdoor spaces will never be left in the dark. With a wide range of different fixtures and lighting options, you can truly customize your space to fit your style.
Safer Around Swimming Pool and Outdoor Water Features
Swimming pools are both fun and risky. Prevent drownings and trip-and-fall accidents around your swimming pool with low voltage lighting. Line the edge of your pool to help swimmers more easily see the edge. Poolside lighting can also help alert you to the first signs of trouble with swimmers by giving you a clearer view of what is happening in your pool.
Low voltage lighting is also safer to use around water features, as it significantly reduces shock risk and stronger water-proof fixtures and guards.
Creates Safer Pathways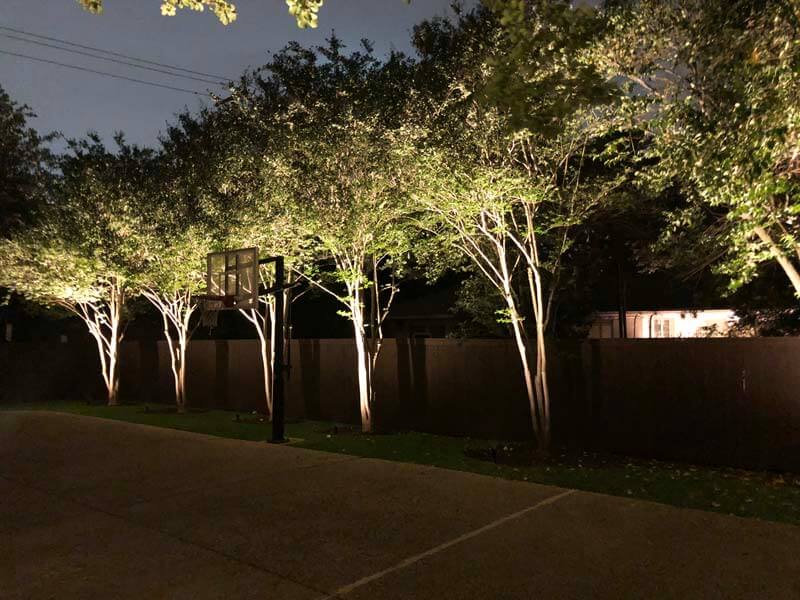 Low voltage lighting is not overly bright and can be installed as recessed lighting into the ground, keeping the light out of your guests' eyes as they move around your property. Light up your pathways and safely welcome guests into your home with low voltage pathway lighting.
Longer Lifespan Means Greater Return on Investment
The lifespan of a light bulb tends to be the deciding factor in determining which to choose for lights. Outdoor lights are often tedious to replace, and doing so for line voltage lighting can add an additional cost to the new bulbs.
LED light low voltage lighting can last for 50,000 to 100,000 hours—much longer than conventional incandescent bulbs. As a result, homeowners can save money by choosing the long-lasting LED lights while also saving on installation costs, as they are significantly easier to work with.
Get Started With Low Voltage Lighting Design in Texas
Whether you are looking to light up your poolside or create a welcoming atmosphere on your front porch, the team at Enhanced Outdoor Lighting and Design has you covered. Let our team help you create an outdoor lighting design that shows off the best features of your home while creating a relaxing and safe atmosphere. Contact us today for more information on our low voltage outdoor lighting or to schedule an appointment with our design team.