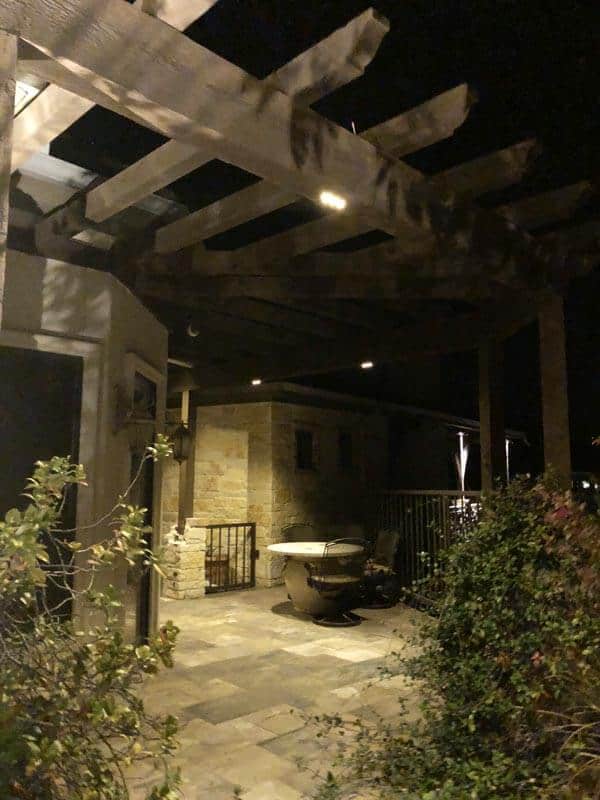 There's nothing quite like whipping up a delicious meal with loved ones right under the stars. However, if you want to keep from bumping into each other or spilling your meal before you even get a chance to taste it, it would be wise to consider these 5 outdoor lighting options for your outdoor kitchen. While a candlelit meal can be magical, you want to make sure you don't burn through the candles before your supper is ready to be served.
1. Pathway Lights
Outdoor lighting is an essential part of keeping your guests safe. Path lighting allows guests to see where they are going and can turn your outdoor space into an experience rather than just a backyard. This technique can lead guests from one outdoor feature to another to create a cohesive story. Path lighting also provides clear indications of where guests can go and where they shouldn't, preventing them from wandering into potentially dangerous areas or trampling their beloved flower beds.
Don't forget stair or step lights
When it gets dark, stairs become exponentially more dangerous because they become nearly impossible to spot. Illuminating steps help reduce the chances of tripping by making each step clear, even in reduced light. This is especially important for multi-level decks or outdoor areas that are on platforms or hills that incorporate retaining walls and stairs.
2. Ceiling Fan Lights
Ceiling fan lights are a light fixture that serves many purposes. Not only does the fan help you keep away mosquitos and flies, but the light will brighten up your entertainment area.
These are especially helpful near food prep and cooking areas. The fan can help disperse the smoke from cooking on a grill and keep the cook cool, while the lights allow everyone to see what they are doing.
3. String Lights
String lights are a festive and inexpensive option to illuminate your outdoor kitchen. They can create an inviting and carefree atmosphere for your outdoor space, setting the scene for countless unforgettable gatherings.
4. Task Lighting
These lights are essential if you want to focus the light on one area, such as an outdoor grill or food prep area. This option keeps the light focused without drowning out the rest of your outdoor kitchen, which makes it ideal for stargazers or people who simply enjoy basking in the twilight.
5. Under-Counter Lighting
Under-counter lighting adds visual interest to your outdoor kitchen and bar, while also illuminating walking areas. This lighting option can also help you see inside under-counter cabinets.
6. Additional Kitchen Lighting Tips
Whatever techniques you may be considering, there are a few universal guidelines to keep in mind. First, you should always choose fixtures that are rated for outdoors. Between precipitation, wind, and critters, outdoor lights face many unique challenges compared to indoor lights. It's also important to position lights so they illuminate your work area and do not exacerbate the original problem by casting shadows. Finally, consider choosing LED fixtures over other models. They are more energy-efficient, which means they are also more cost-efficient, making them an especially great choice for outdoor kitchen lighting.
Most importantly, always get a professional to help you install your outdoor lighting. Electrical wiring is complicated and high-risk on its own, but the issues are compounded when you throw all of the factors of the outdoors into the mix. At Enhanced Outdoor Lighting & Design, our expert team is eager to help you with all of your outdoor lighting and design needs.
Contact Enhanced Outdoor Lighting and Design in Austin and San Antonio
Whether it's figuring out how to light your outdoor kitchen or how to best use outdoor lighting to show off the features of your garden, our experts will work with you to create a practical and aesthetically pleasing design that you will love for years to come. You can be sure we have the experience and the skills to give you the outdoor lighting setup that best suits your needs, so make sure to give us a call today.