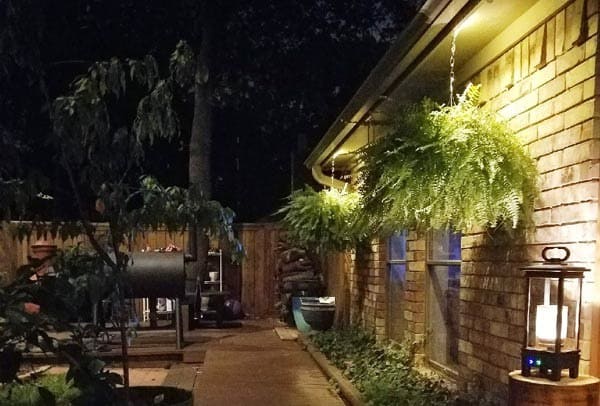 Figuring out the right lighting design for your patio can be intimidating. After all, there is a whole field of physics devoted specifically to understanding light and how light moves. Not only do you have to consider how light falls when you think about lighting design for your patio, you also need to think about placement, temperature, and decor. Luckily, our experienced team at Enhanced Outdoor Lighting & Design has put together this guide to help you choose the right lighting design for your patio.
What to Take Into Consideration When Choosing Patio Lighting
There are many factors to take into consideration when choosing your patio lighting. You might think you just need to pick out a fixture, but you need to consider the placement of that fixture and how it will hold up to the weather of your region. Not to mention, you need to consider how to install it safely and make sure it complements the other elements of your patio.
Take Into Consideration the Wet or Dry Rating of Your Lights
Landscape lighting has different ratings for the amount of moisture that the fixtures can withstand; this is known as the dry or wet rating. Wet-rated outdoor lights are sturdier and able to block out more moisture than dry-rated lights. They are better able to withstand harsh weather conditions such as heavy rains and are perfect for exposed patios. Dry-rated lights are able to stand indirect weathering and can handle minimal moisture levels which makes them perfect for areas where it is relatively dry, such as covered patios and covered dining areas. Knowing the wet or dry rating of your outdoor fixtures is extremely important when considering in which locations of your patio these fixtures are going to be installed.
Where Are Landscaping Lights Installed?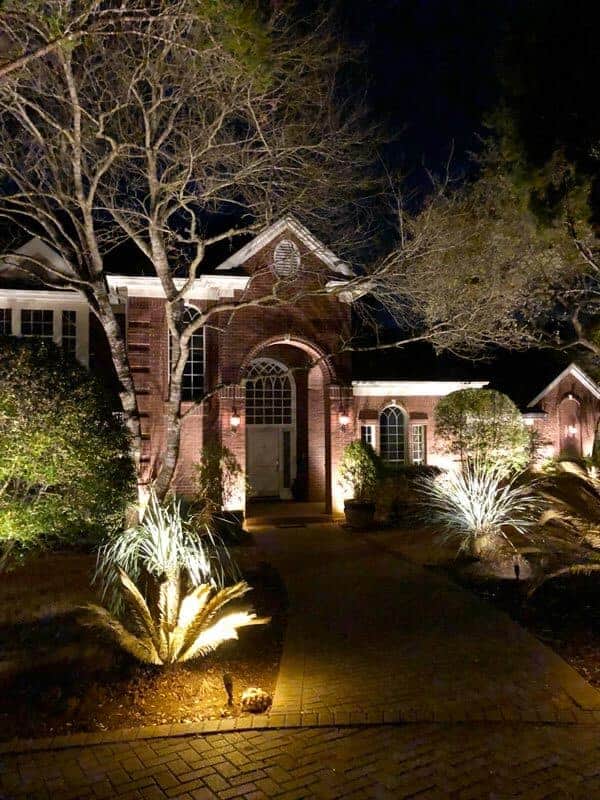 Taking location into consideration is also an important factor when choosing your outdoor lighting design and types of fixtures. For example, wall lights work well for patios that are attached to the home since they brighten up the space without shining a bright light directly into the space. This helps avoid shining light directly into the eyes of anyone enjoying your space while also showing off the beauty of your home's architecture.
Hanging lights are good for covered patios and add brightness to the space. These are also a great alternative for homeowners who may not like the look of the wall light or may have limited space.
Post lights can be installed near the entrance of the patio and also line walkways to the different spaces of your landscape, such as a garden or pool. This helps create a sense of unity throughout your landscape
Take Into Consideration the Style of Your Home
You want your outdoor patio lighting to complement the beauty of your home; it needs to create a cohesive look. For example, if you have a more modern-looking home, using classical large fixtures may not blend well. Contemporary lights may be a better fit since they have a more minimalist and straightforward appearance. They make use of geometric shapes such as spheres or rectangles.
Similarly, if your home has a classical look, such as a Victorian home, you want your outdoor lighting fixtures to be more ornate with decorative accents such as flourishes or curving hooks.
Determine Your Patio Lighting Wants and Needs
Remember, your patio lighting should be bright enough that you can comfortably move about the space, but not so bright that it reminds you of daytime. Outdoor lights also need to be directed away from people's eyes. To accomplish this, lights are typically placed higher so the light fountains down. If your patio has steps, make sure they are lit somehow. This can be accomplished either by having light coming from the railing or using floor lights to light the steps themselves.
Consider Your Light's Color Temperature
Color temperature refers to the Kelvin value of the bulb and is a feature that affects the mood of your patio. The higher the Kelvin number, the brighter the bulb will be. White lights, especially those with a blue tint, are called "cool lights." They do well in relatively dark surroundings. For these, using just enough fixtures to allow you to see is the way to go as too many may appear harsh.
In contrast, warm lights create a cozy yellowish glow, making them great for individuals who want to light the entire patio without bringing too much attention to dark surroundings.
Custom Outdoor Patio Light Controls
Smart controls can be accessed from your phone which allows you to turn on your patio lights from anywhere. That convenience is especially great when you're away from home and want to make sure your lights are turned on for security purposes without needlessly increasing your electricity bill. Motion detectors are also great for both security lighting and for families who want to control their lights by simply walking outside.
However, depending on how long you plan to spend on your patio, this option may not work well as the lights will turn off after a while of little to no movement. If you and your family like to spend many quiet relaxing nights on the patio, motion detector lights may not be the best option for you.
Make Sure You Are Doing Your Part to Cut Down on Light Pollution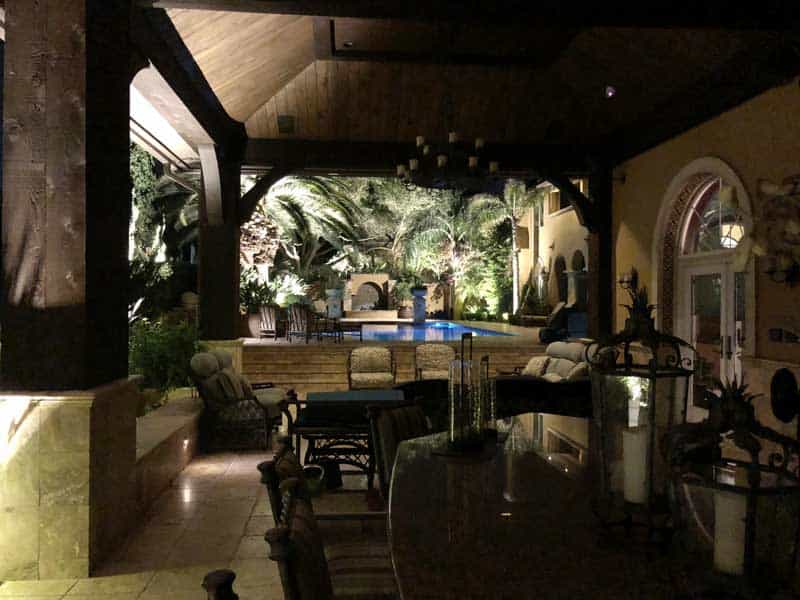 One of the biggest issues that all homeowners and business owners need to keep in mind is light pollution, otherwise known as excess lighting that "leaks" out into the atmosphere to form that familiar urban glow that can interfere with the view of the stars and other celestial phenomena.
This is especially important for the region, since San Antonio has both the Curtis Vaughan Jr. Observatory at UTSA and the Scobee Planetarium, and the region surrounding the San Antonio metro area has several spots known for clear skies and star views. Keeping light pollution to a minimum is essential to preserving the natural beauty of our area. Fortunately, there are ways to light your outdoor space without contributing to the problem.
Some general tips to keep in mind are to aim light down not up. Additionally, torches, spotlights, path lighting, and deck lights should have solid opaque tops that don't let the light shine too far upward. Similarly, uplights should be kept small and sit below a railing or obstacle.
Need Help Creating the Perfect Patio Lighting Design?
When it comes to creating the perfect patio lighting design, there's a lot to keep in mind. You need to pick out the color, placement, and style, and that's all before figuring out installation where you also have to consider environmental impacts and electrical wiring. There's no need to be alone in the dark, though. Our team at Enhanced Outdoor Lighting & Design has the skills, passion, and experience to help you achieve the perfect patio lighting design for you. Make sure you get it right the first time by consulting the experts so that you can enjoy a cool evening outdoors as soon as possible. Contact us to schedule an appointment or consultation today!