If you are thinking about landscaping for your property, you might have some questions about the kind of lighting you want to use. Most people choose either low-voltage lighting or line voltage lighting. Understanding the difference can help you make the right choice for your home or business. Here's what you need to know about the differences between these two types of lighting options and how they fit into your landscaping needs.
What is Low-Voltage Landscape Lighting?
Low-voltage lighting is a term that is used to describe outdoor lighting where a transformer is used to reduce voltage. In other words, the voltage that is moving through the lines between the lights is not the same voltage that comes from the electrical outlet where the lighting is plugged in. That can have some important value, especially for homeowners.
Benefits of Low-Voltage Landscape Lighting
There are some big benefits of low-voltage landscape lighting. One of the most significant benefits is that this type of lighting is pretty easy to install. It is also less expensive than line voltage options, so more homeowners and business owners can afford to have it on their property. It looks nice and can make it easier for people to see the area, so it can reduce safety risks as well, especially in areas where there are tripping hazards or other concerns.
Low-voltage landscape lighting also operates safely in wet locations, so you can have it near a pool or pond and you don't have to worry about the safety of your lighting when it rains. Because it is safe and effective, and because it is not very disruptive to install, a lot of people love to use this kind of landscape lighting. Your children and pets will be safe around it, too, because it doesn't get hot enough to burn them if they touch the lights.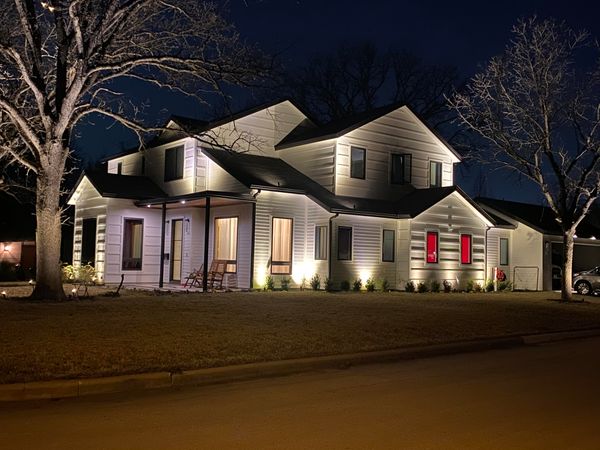 The cables for low-voltage landscape lighting don't have to be in conduit because they don't have a lot of electrical current going through them. If there is ever a break in the wire or someone accidentally cuts into the wires, these kinds of lights don't have the same kind of electric shock risk as some other types of lighting. Without that risk, conduit for the wires isn't necessary. You can get a lot of variety in the bulbs and lighting fixtures, too, so you can have the look you really want.
With elegant designs available, and a lower cost for the fixtures and the installation, low-voltage landscape lighting is often a good choice during a home improvement project. If you want to relocate fixtures while redesigning an area, or you're updating your outdoor space, this is the kind of lighting you can use to make a statement and have an impact without a lot of effort and money.
What is Line Voltage Landscape Lighting?
In contrast with low-voltage landscape lighting, line voltage landscape lighting is more typically used in security, commercial, and public-use areas such as parks. This is a much more labor-intensive type of lighting which will require an electrician to install. There's no transformer to lower the voltage running through the wires, so the current can pose a shock risk. To reduce that risk, the 120V cables running to and between the lights must be placed in conduit.
The cables also have to be buried 18 inches underground, and the connection points are required to have sealed junction boxes. This helps protect the system from water, which doesn't mix well with electricity. Generally, this type of lighting is mainly used for lighting up larger areas. The fixtures that work with this type of lighting are much brighter than low-voltage options, so you won't need to use as many of them. If line voltage lighting is in a residential space, it's most commonly used for trees.
Considerations for Line Voltage Lighting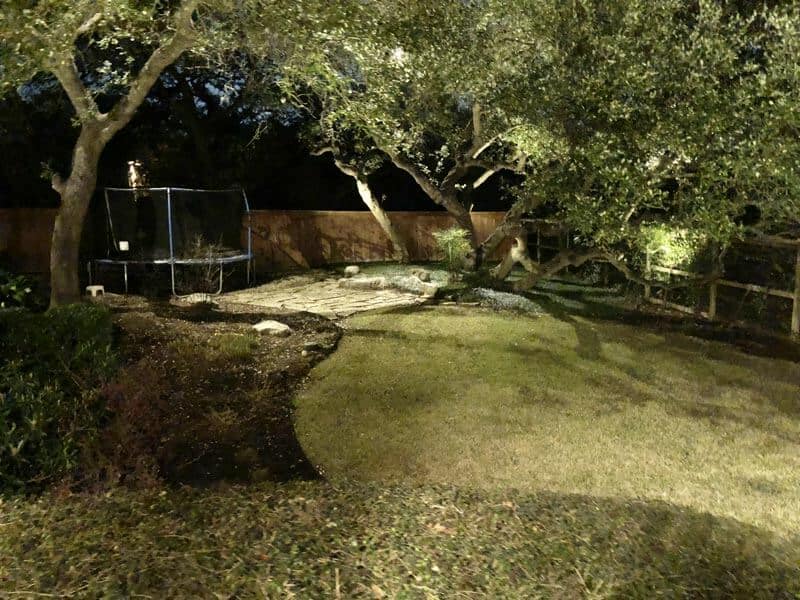 The biggest consideration for line voltage lighting is that it comes with the added cost of requiring an electrician to install. The connections have to be waterproof, or you will have a shocking hazard. You may also find that this type of lighting disrupts the landscaping that already exists, since trenches will have to be dug in order to bury the cables in the ground. There are also fewer lighting fixtures to choose from, although they tend to be larger and brighter than low-voltage options.
Since there is more work involved with this kind of lighting, and it requires an electrician to install, there is a higher initial cost to this kind of lighting. You will also see higher energy usage with line voltage landscape lighting, so you will need to be prepared for your power bills to rise. For commercial applications, this type of lighting often makes sense, but it is not very popular for homeowners because of the cost and time involved, as well as the disruption to the current landscaping that is already in place.
Need to Install Low-Voltage Lighting for Your Landscape?
If you want to have low-voltage landscape lighting at your home or business, reach out to the professionals at Enhanced Outdoor Lighting & Design today. We can discuss your options, goals, and budget, so you can get the lighting you want and have a great-looking landscape you can enjoy. Contact us today and let's get started on making your landscape everything you want it to be. 
Additional Resources: