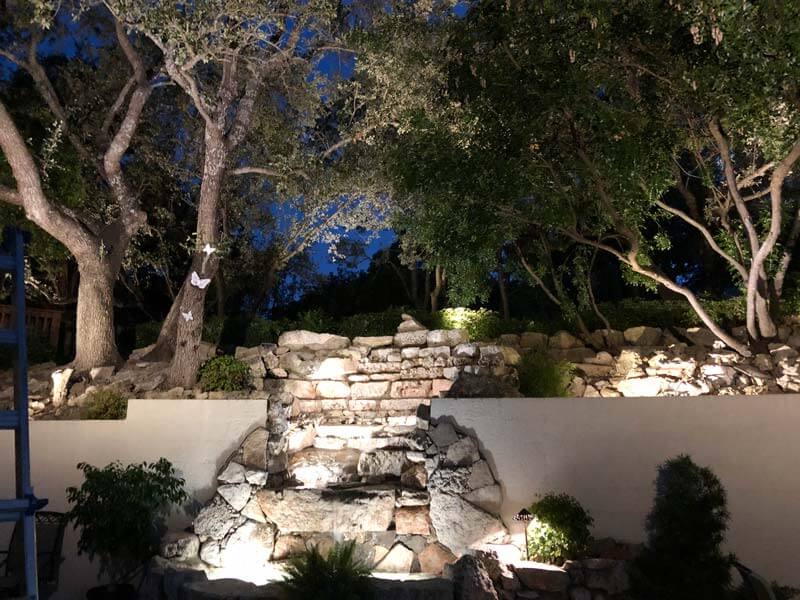 When the evergreens are the only green thing left on your landscape, it can be tempting to write off the season as a loss when it comes to enjoying your outdoor space, especially if you don't like being out in the cold.
However, while you cozy up by the fire inside, you can still admire the wildlife, glittering snow, and other breathtaking sights you only get to see when the leaves (and temperatures) have dropped. Landscape lighting will only make that even easier.
Here are 4 ways that landscape lighting can help ensure that you get to make the most of your outdoor space year-round.
1. Enjoy Your Outdoor Spaces for Longer
It is no secret that during the winter season, the days are short and the nights are long. Not only is it usually dark when you leave for work in the morning, but most individuals don't get home from work until after it gets dark, too,  since sunset times for Austin and San Antonio during the month of December average between 5:35 PM and 5:40 PM.
Landscape lighting can give you a gorgeous and inviting environment to come home to so that even if the sun sets early, you're guaranteed at least one literal bright spot in your day.
Landscape lighting also allows you to enjoy your outdoor gardens, patios, and outdoor living or dining areas a lot longer during the winter and other times of the year. With a gorgeous outdoor fireplace complemented by beautiful outdoor lighting, you have a nice place to cozy up, relax, and unwind.
2. Reduce the Risk of Accidents
Nighttime can make navigating pathways and stairs treacherous on its own. When you also consider the risk of accidents due to ice or unseen hazards, it is clear that driving during the nighttime or times of low visibility comes with a fair share of risk during the winter especially.
Without proper landscape lighting, you could be deemed liable for an accident. Lighting can also improve the safety of your loved ones while they walk, not just while they drive. Path lights can help guide you, your family, and guests around your property, helping them get from one place to another without a potentially painful misstep.
3. Show Off Your Landscape's Special Features
You probably spent a lot of time and resources creating the outdoor living areas of your dreams. However, without landscape lighting, your hard work will be hidden once the sun goes down. During the winter, that means your hard work won't be able to be appreciated for a majority of the day since the days are so short, to begin with.
Landscape lighting can help bring attention to the gorgeous details of your home while also showing off special features such as a pool, outdoor sitting area, treasured plant, or special stature or lawn ornament.
4. Make the Most of Winter Landscape Lighting
There are some important ways you can make the most of your winter landscape lighting. For example, you should keep your wires underground to protect them from damage. Cold weather conditions can cause wires to thaw or freeze, which is why it is important to make sure all wires are kept six inches deep in the ground.
You can also use dimmer lights around bare trees, as too much light gives them more of a spooky feel more in line with Halloween than the holidays. Additionally, dim lights help give the branches a softer look which can soften their naturally spiky appearance. The light can also be lowered so it lights up the trunk rather than the branches.
Finally, make sure to adjust your lights if they are on a timer. It is important to always make sure to properly adjust the lights on your timer during the changing of the seasons. This will help ensure that your lights come on when you need them to. This in turn maximizes the safety they offer and minimizes the impact of their electrical usage on your wallet.
Need Help Designing the Perfect Landscape Lighting?
Whether you're looking to savor the summer sun or wander in a winter wonderland, the team of experts at Enhanced Outdoor Lighting & Design can help you design and implement the outdoor lighting of your dreams.
We'll work with you to make sure your outdoor lighting does everything you need it to, both practically and aesthetically. To schedule an appointment or consultation, contact us today!