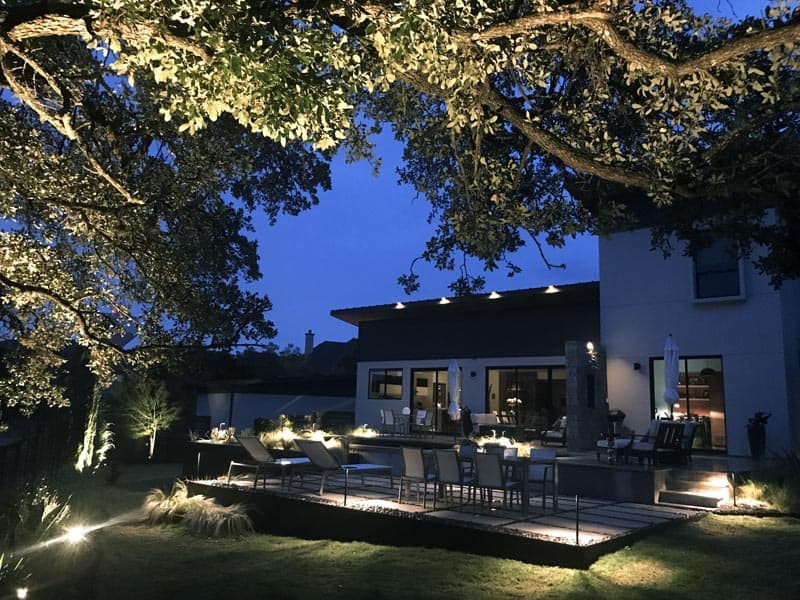 Enhanced Outdoor Lighting & Design
Phone: (512) 359-0071
Hours of Operation:
Monday-Friday: 7 AM – 5 PM
Saturday – Sunday: Closed
Outdoor Lighting & Design in Bulverde, Texas
Looking to create a stunning outdoor living space for your Bulverde home? Enhanced Outdoor Lighting & Design can help! Our team offers a wide range of products and outdoor lighting solutions to match your outdoor space's style or wanted function. Whether you are looking to compliment an enchanting garden with subtle garden lighting or need gorgeous lights for your outdoor kitchen, we have the designs and fixtures for you!
As a family-owned-and-operated business, Enhanced Outdoor Lighting & Design puts our clientele first, treating them as if they were our own family. Our designers have a keen eye for design and create customer outdoor lighting designs that enhance the beauty of your outdoor space without overpowering it or washing it out. Enhanced Outdoor Lighting & Design only uses the most trusted products in the industry. All of our LED fixtures are backed by a 15-year or 40,000-hour lamp life warranty. In addition, all of our 'retrofit' or upgradeable, replaceable LED lamps have a 6-year warranty.
Services We Offer the City of Bulverde
LED Lighting in Bulverde, Texas
LED Lighting is perfect for outdoor lighting as it is bright enough to chase the shadows away without being too powerful and washing out the beauty of your outdoor living space's architecture and surrounding plants. It boasts low energy consumption, saving you money on energy costs. They also have low heat which protects your plants and reduces the risk of fire. Our team has high-quality outdoor lighting fixtures and is more than happy to help you transform your outdoor space!
Patio Lighting for the Homes of Bulverde, Texas
Nothing is more relaxing than going out onto your patio with a glass of wine and a good book to enjoy the night. Being surrounded by the beauty of nature, underneath the twinkling stars with the gentle sounds of the night all around, is the perfect atmosphere for winding down. Enhanced Outdoor Lighting & Design offers expert patio lighting solutions for your Bulverde home so that you can turn your patio into an extended living space, perfect for a long weekend or a quiet evening outside. Contact our team today for more information!
Landscape Lighting in Bulverde, Texas
Landscape lighting can highlight key features of your yard and enhance the entire area. Whether you want to show off your home's architecture, a gorgeous part of your yard such as a stone garden or statue, or the natural beauty of your plants, our team has the solutions for you. Give your neighbors and guests the best first impression and contact our team today!
Resources for the City of Bulverde, Texas
Enhanced Outdoor Lighting & Design is proud to serve the hardworking individuals of Bulverde, Texas, and the surrounding areas, including Boerne, San Antonio, and Helotes. For more information on our services or to schedule a consultation, contact the trusted team of outdoor lighting professionals at Enhanced Outdoor Lighting & Design today!
Local Reviews
for Bulverde, TX
---