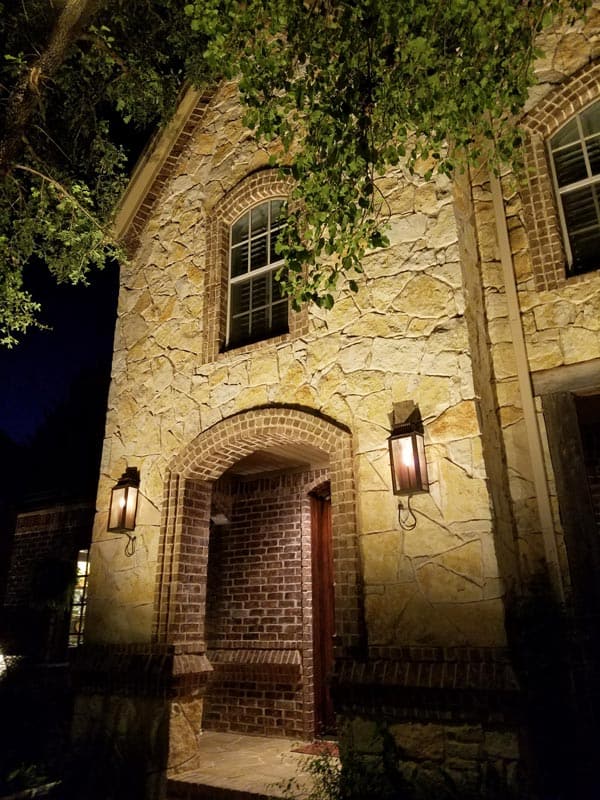 An outdoor wall light is a great way to bring a touch of style and sophistication to your home. It also comes with other benefits. Plus, there are so many kinds of wall lighting to choose from. In this blog post, Enhanced Outdoor Lighting & Design reviews the types of wall lights and how you can use them to enhance your property.
Outdoor Wall Lighting
Outdoor wall lights are lights affixed to the outside of homes and other buildings. You can also find them outside of sheds, garages, stores, and more. They are available in many shapes, sizes, and styles. With the many available designs, you should have no trouble finding one that is a great fit for your needs.
Outdoor wall lights have different price points. And, depending on the model of the wall light, they may have multiple finishes available. Outdoor wall lights can also have one or more bulbs. How much illumination an outdoor light provides depends on the type. Some fixtures have a covered light source, while others use a transparent cover.
Outdoor Wall Lighting Fixtures
Wall lights come in a variety of fixture types that can be applied to different scenarios. We've put together a list of popular outdoor light fixtures you can use to illuminate your property. Please note that this list is by no means exhaustive.
Lantern
If you want a timeless look, a lantern-style light fits the bill. This outdoor wall lighting fixture brings a taste of the past to your home. Lantern lights tend to work well alongside post lights.
Barn Light
Barn lights are connected to the wall via a short curved "arm." They have a casual feel. These lights are usually directed downward. Rustic metallic finishes and flared shades are hallmarks of this style.
Bulkhead
Inspired by seafaring lights, bulkhead lights are available in a variety of designs. Some of these fixtures allow light to shine at roughly 180 degrees, making them a good choice in places that need light in multiple directions. They pair well with industrial-style homes.
Candle
Candle-style wall lighting fixtures evoke memories of times past by positioning the light in a way that suggests it's a candle. Some candle fixtures make use of multiple lights.
Cylinder
Cylinder wall lights hold their light sources within a cylinder cover. The fixtures will often project the light downward, although variations exist.
Flush Mount
When you are looking for a sleeker design, a flush-mounted wall light may be the way to go. Flush-mounted wall lights are placed directly against the wall, giving them a low-profile feel. They often provide homes with a clean look. Flush mount lights are available in a variety of styles.
Spotlight
A wall-mounted spotlight is best for focusing light on a specific area. These can be used to bring attention to a specific feature of your property or highlight a walkway to make getting around easier. Since these lights are attached to the wall, their illumination range is somewhat limited.
Floodlight
Floodlights are a great way to light up a large area. They can be utilized to light gatherings with friends.
Wall Washer
Wall washers are a great choice when you want to highlight a wall. A wall washer directs a wide beam over a wall, bringing attention to its design and texture. While it doesn't light an area the same way other lights do, a wall washer can still add a lot to a property.
Outdoor Wall Lighting Styles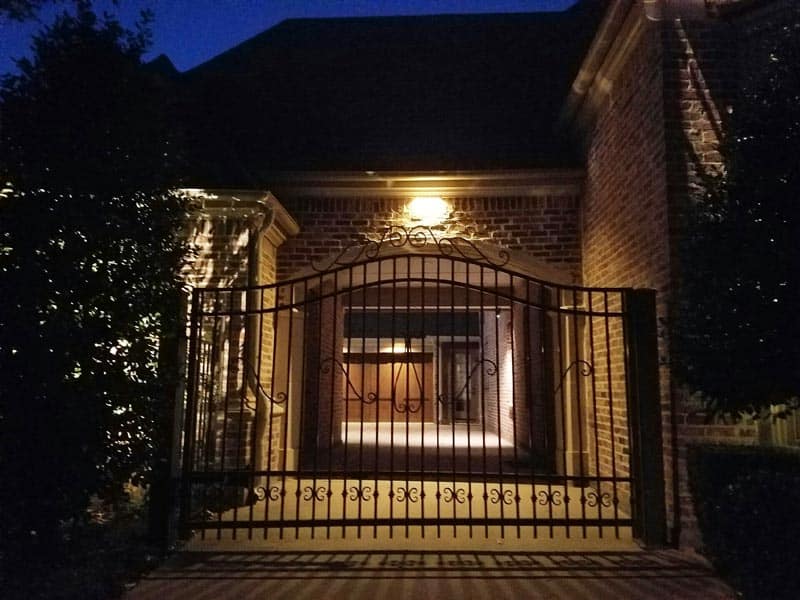 Outdoor wall lights come in a range of styles, from the traditional look to contemporary designs. Regardless of your home's aesthetic, you are almost certain to find an outdoor light that pairs well with it.
Below are some common styles of outdoor light fixtures. This list is also not exhaustive.
Colonial Outdoor Wall Lighting
Colonial wall lights give the impression of being held from a hook. They have a charming, old-fashioned look.
Contemporary Outdoor Wall Lighting
While contemporary is sometimes used interchangeably with modern to describe lights, they are, in fact, two distinct styles. Contemporary style can come across as futuristic or cutting edge. They often feature wild shapes and unique forms.
French Country Outdoor Wall Lighting
Timeless is one way to describe French Country outdoor wall lighting. These lights may come with a patinated or weathered look and can be incredibly elaborate.
Industrial Outdoor Wall Lighting
Industrial outdoor wall lighting has a tough, factory-like appearance. These lights may look rough around the edges.
Modern Outdoor Wall Lighting
Modern style is known for simplicity. These wall lights feature sharp angles and straight lines.
Traditional Outdoor Wall Lighting
Traditional outdoor wall lights are ornate and may evoke images of high society. It sometimes features glass that is etched or frosted.
Outdoor Wall Lighting Uses
Outdoor wall lights serve many uses around homes. We've compiled several ways you can use them to enhance your property.
Showcase your Home
When you put time and effort into a home, you don't want to hide it away at night. Outdoor wall lights can be used to highlight the best parts of your home's architecture, such as a beautiful pillar or textured material.
Convenience
If you arrive home after dark, you'll need to be able to find your way. Outdoor wall lighting can help you get safely inside your home while alerting you to potential tripping hazards—especially on porches and near entryways. Outdoor wall lighting is also useful for guiding guests to your door while making it easier for you to see who's there when it's dark out.
Enjoyment of Outdoor Spaces
Whether you are relaxing with a book after a hard day's work or having a get-together with friends, wall lighting can enhance visibility for a more enjoyable experience. The light's range of illumination is restricted by its attachment to a wall, so to create the perfect atmosphere, consider how you want your outside spaces to be lit at night.
Security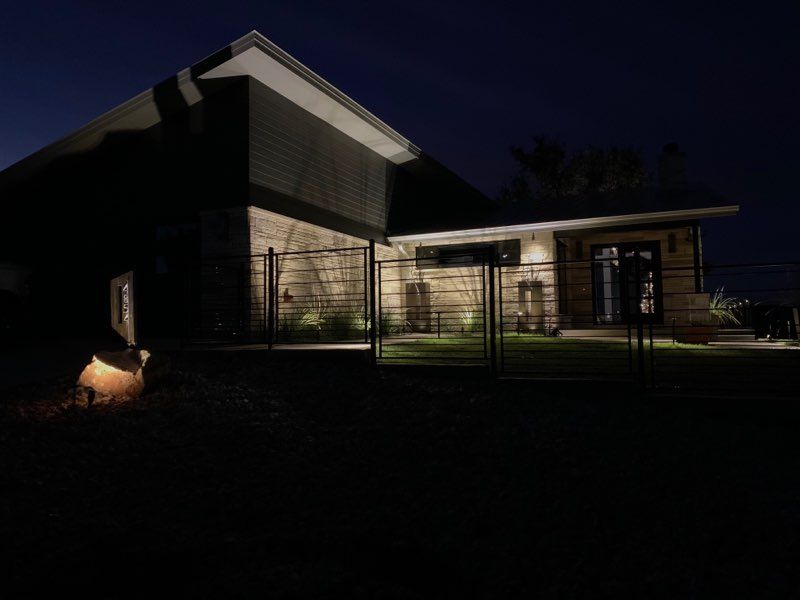 When used with other security systems, outdoor wall lights may make your home more secure. Outdoor lights can be paired with timers and motion detectors. A professional security company can help you get the most out of your outdoor security lighting.
Outdoor Wall Lighting Ideas
To help inspire you, Enhanced Outdoor Lighting & Design has compiled some ways you can use outdoor wall lighting to illuminate your property.
Home Entryways
Outdoor wall lights are a popular choice for lighting the entryway of homes. A common technique is flanking a doorway on both sides with outdoor wall lights. This can make your home appear more welcoming and make a great first impression. You can also use wall lights on porches.
Backdoors
Increase the visibility around your home with an outdoor wall light placed at your back door. It can also help alert you to tripping hazards that would otherwise go undetected.
Showcasing Architectural Elements
By using wall lights—especially wash lights—you can bring attention to your home it otherwise wouldn't have at night. You put a lot of time and effort into making your home look great, so why have it hidden away at night? Wall lights can be placed in intervals along a house to add beauty at night.
Outside Garages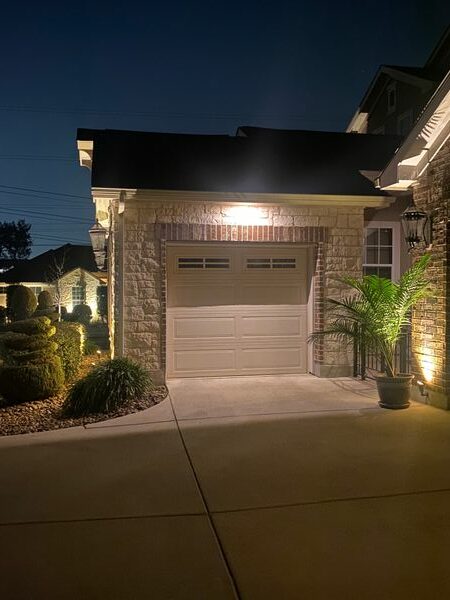 With vehicles coming and going, visibility around garages is paramount. Outdoor wall lights can be placed around garage doors for increased visibility and safety. This is also a great way to show off the look of your garage. There are several ways you can add outdoor wall lights to garages. A light can be placed on the side of a garage door nearest a walkway, or you can also flank both sides of a garage door for more light coverage. A wall light can also be placed above a garage door, assuming it doesn't interfere with its opening and closing.
Patios
Outdoor wall lights can allow you to enjoy a patio long after nightfall. They help guests navigate the patio safer. Outdoor wall lights can also highlight the attractive design of patios, bringing attention to their materials.
Outdoor Wall Lighting Services in the Austin and San Antonio Area
There are many aspects of outdoor lighting, from selecting the right light for your situation to setting the lights up correctly. When working with any type of lighting, it is important to have a professional by your side. Enhanced Outdoor Lighting and Design can help you get the most out of outdoor wall lighting for your home or business. Our company serves the greater San Antonio and Austin areas. We proudly maintain an A+ rating from the Better Business Bureau. We also were the Kichler Lighting Western Region Contractor of the Year in 2017. 

We look forward to enhancing your property with beautiful outdoor wall lighting. Contact us to get a free estimate!