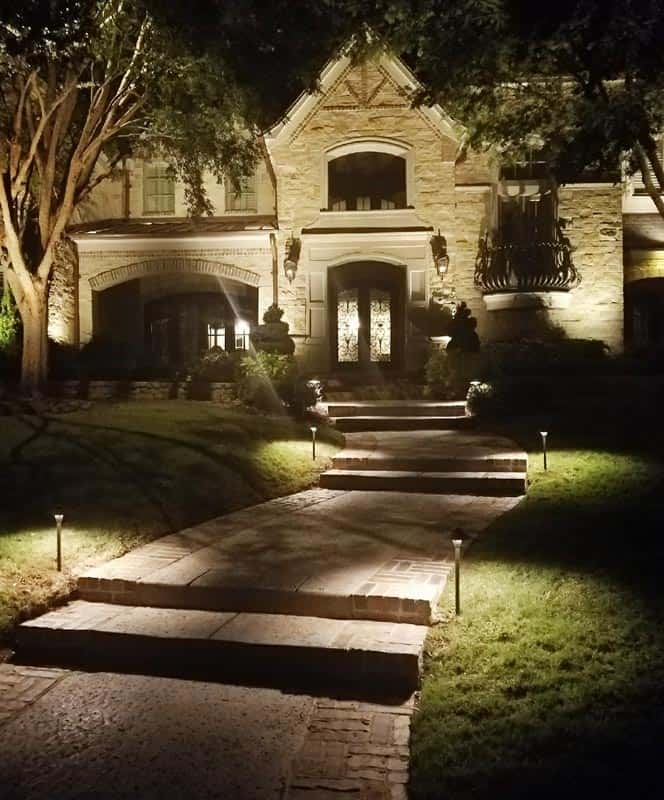 Lighting can do a lot to enhance your outdoor space. Outdoor lighting can be applied to your hardscaping in several ways to enrich your outdoor experience as well as the look and feel of your hardscaping. In this blog post, Enhanced Outdoor Lighting & Design show some ways hardscape lighting can showcase your hardscaping and make getting around outdoors easier.
Hardscape Lighting
A hardscape consists of the non-living parts of your outdoor space. It can range from brick walls to stone patios. Lights can be discreetly located throughout a rock garden or against your stone patio to provide stunning illumination, revealing the beauty of the stones.
As with all types of outdoor lighting, you need to ensure that your hardscape lighting can handle the elements. Your lights will need to withstand rain, wind, temperature variations, and more. A professional can help you determine the optimal hardscape lighting for your property.
How to Use Hardscape Lighting
Hardscape lighting can be paired with many features of your home's hardscaping. For example, you can use it to bring attention to pathways or stairs to help you find your way. You can also show off a beautiful feature of your yard or illuminate an outdoor patio or gazebo to enjoy those gorgeous Texas nights. Hardscape lighting can also be used to highlight the textures on features such as pillars and walls.
Below you will find just a few examples of hardscape lighting and how it can help you achieve your outdoor lighting goals.
Pathway Lighting
You can illuminate pathways in many ways. By using flush-mounted lights, a.k.a. recessed lights, in your hardscape path, you can create a stylish look. With flush-mounted lights, you are less likely to trip over the fixtures late at night, and they can't be blown over in a storm.
Patio Lighting
A well-lit patio is important if you want to enjoy a relaxing evening outside after dark. Patio lighting needs to be safely installed and tough enough to handle all kinds of weather. By using patio lighting, you can complement the architectural features of your patio, such as walls and pillars, while providing a well-lit space to spend time with friends and family.
Post-Mount Lighting
While not exclusive to hardscaping, post-mount lighting can give your landscape an elegant feel. As the name suggests, the lights are mounted on poles or posts. If positioned along paths, they can aid in visibility and enhance the beauty of your hardscape.
Pier Mount Lighting
Pier mount lights are placed on structures like columns or certain types of fences. They can add a regal feel to your home, and they come in a variety of designs that help create new looks.
Gazebo Lighting
Relaxing on a gazebo on a gorgeous Texas night can be an incredibly rewarding experience. It can be a peaceful getaway from the hustle and bustle of the modern world. By equipping your gazebo with the right lighting, you can enjoy spending time in it after the sun has set. Using lights on the pillars or posts of your gazebo can increase visibility while highlighting its design. You can also use a pendant light for a dash of elegance.
Retaining Wall Lights
Retaining walls are a striking feature to have in your landscape. Using retaining wall lighting is a great way to highlight the wall's architecture and illuminate more of your landscape. There are several ways you can place lights on retaining walls. In the following sections, we've compiled a list of popular methods for incorporating lighting into and around retaining walls.
Embedded Lights
Embedded lights offer a discreet look during the day. Embedded retaining wall lights can be installed during the retaining wall's construction. It is more difficult to embed lights after the retaining wall has been made. Another option for installing embedded lights is to do so when installing a new veneer on your retaining wall.
Recessed Lighting at the Base of the Wall
Recessed lighting at the base of a retaining wall is a versatile way to add lighting to your retaining wall. The lights can be used to shine onto the ground for better path lighting, up on the wall to highlight the beauty of the stonework or both.
Under Capstone
Lights can also be installed under the capstone. This might not work as well if the capstone isn't deep enough. This could lead to wires being dangerously exposed. Modifications may be needed to the wall to get the light to fit correctly.
Spotlights Positioned at the Base of the Retaining Wall
A spotlight at the bottom of a retaining wall can shine upwards on the wall to showcase its texture and design. You can use this to create a dramatic look.
Spotlights Positioned at the Top of the Retaining Wall
Placing spotlights at the top of the retaining wall has a couple of benefits. Not only does it provide a dramatic look, but it also allows the light to be directed at your landscape and not over the wall into another part of your property or someone else's. This helps cut down on potential light pollution.
Post Lights or Hanging Lights Positioned at the Top of the Retaining Wall
These lights can look great both day and night. Please note that post lights and hanging lights are vulnerable as they are exposed to the elements. They provide a charming look, even during daylight.
Lighting Water Features
When lighting water features, such as fountains or ponds, it is very important to enlist the help of a professional due to the inherent danger of water mixed with electricity.  If used incorrectly, lighting can also be detrimental to the health of fish. Different species of fish can have different lighting needs. By speaking with reputable fish and lighting experts, you can best determine how to care for your fish and arrange the lighting accordingly. 
Features such as waterfalls can be lit to provide a majestic look and show off their gorgeous waters during the night.
Poolside Lighting
There are many ways you can illuminate the area around your pool. Steps and paths leading up to a pool deck can have lighting integrated into them. It can also help to prevent trips by increasing visibility. Walls or fences can also have lights added to them to highlight their features. You need to ensure that your poolside lights can handle water, as splashes can happen. 
LED Hardscaping Lighting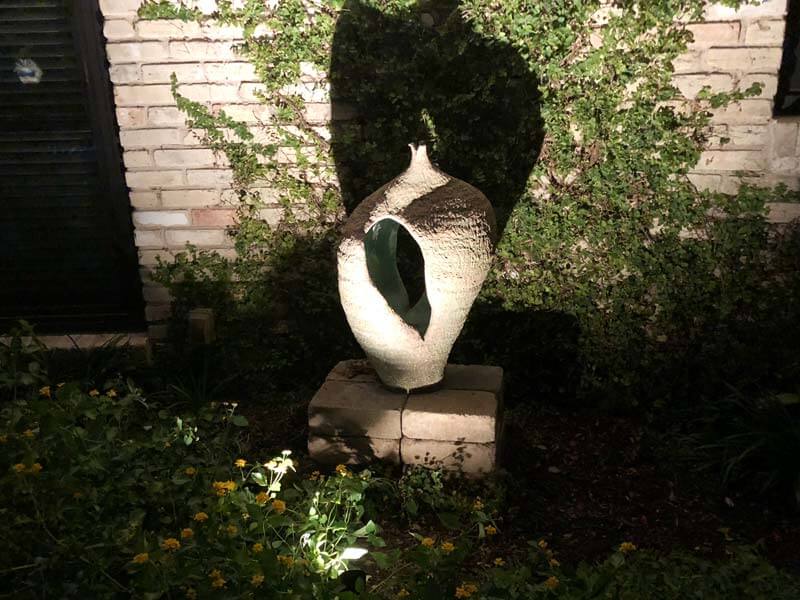 When it comes to hardscape or outdoor lighting in general, LEDs are often a great choice. They offer homeowners many benefits over conventional lighting.
Some of these benefits include:
Environmentally-friendly
Energy saving
Tends to attract fewer insects
Longer lasting than conventional LED lights
While no type of light is perfect, LED lights have many advantages that make them desirable for outdoor use.
Hardscape Outdoor Lighting Installation
If you're in the Austin or San Antonio area, Enhanced Outdoor Lighting & Design can help you create a dazzling outdoor space that you will love. The process involves one of our designers visiting your home to get to know it and deciding how best to showcase its features with incredible lighting. 
We use warranty-backed and high-quality LED lighting that will do your hardscaping justice. The result is a positively gorgeous lighting arrangement that you will be proud to call your own. In 2017 we were the Kichler Lighting Western Region Contractor of the Year and have an A+ rating from the Better Business Bureau. When you work with us, you'll realize why so many of our customers have given us five-star reviews. Take the first step to an even more beautiful hardscape and get in touch with us.
Contact us to receive a free estimate.
Additional Resources: