There's nothing like coming home after a long day at work and relaxing in your serene outdoor living space. But it may be difficult to enjoy your yard in the evenings if you don't have adequate lighting—what was once a peaceful retreat becomes a place full of tripping hazards. It's also hard to appreciate the beauty of your backyard without proper illumination. Thankfully, you can install exterior lighting fixtures to illuminate your landscape so you can enjoy it after the sun goes down. The Enhanced Outdoor Lighting & Design team explains how to implement common types of outdoor lighting fixtures to light up the space you worked to cultivate.
Please be aware that working with electricity is dangerous and should only be handled by professionals.
Bullet Lights
Bullet lights feature a narrow projection of light that illuminates architectural features on homes, tree trunks, and garden structures.
Downlighting
Downlights are mounted high up on tree branches or the eaves of a home and pointed downward. Downlighting can brighten pathways and yards to reduce tripping hazards and make outdoor living spaces more comfortable. Downlights can even create a moonlight effect by shining through tree foliage.
Garden Lights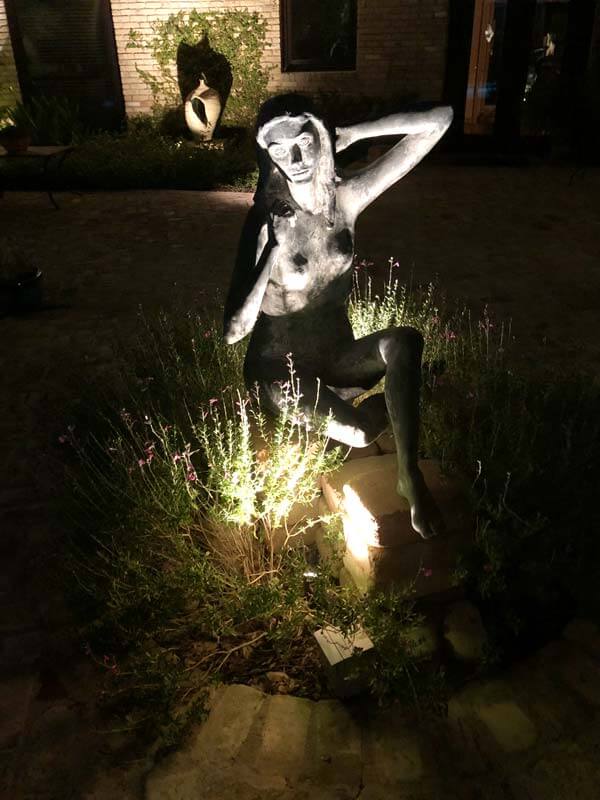 You've put so much effort into your garden; why not celebrate it with beautiful garden lighting at night? Garden lights are often positioned on 18 to 24-inch tall posts, allowing light to shine down on plants and cover them with a gorgeous blanket of light.
Ensure your garden lights are more than 20 feet apart. The purpose of garden lighting is to draw attention to individual sections of your garden, as opposed to flooding it with a continuous field of light.
Floodlights
Floodlights are spotlights that provide expansive illumination for your outdoor space. You can use the broad beam of a floodlight to illuminate driveways or patios.
Wash Lighting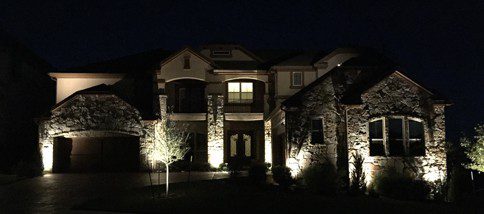 Wash lighting is a technique that uses indirect lighting to create ambiance in your outdoor space. With wash lighting, you can softly illuminate surfaces such as fences, walls, trees, and facades to highlight different architectural features in your yard.
Well Lights
Well lights are buried underground or in hardscapes. You can use these lights to graze the bases of walls or facades or illuminate plants and trees. They are also great as security lights.
Outdoor Lighting Design, Installation, Maintenance, and Repair
Turn to the professionals at Enhanced Outdoor Lighting and Design for stunning landscape light fixtures. We provide high-quality outdoor LED lighting for residential and commercial clients in Austin and San Antonio. 
Our team would be delighted to work with you—we have numerous five-star reviews from satisfied clients, and we maintain an A+ rating with the Better Business Bureau for excellent customer service. When you work with us, one of our expert designers will help implement various landscape lighting fixtures to best illuminate your landscape and achieve your desired aesthetic.