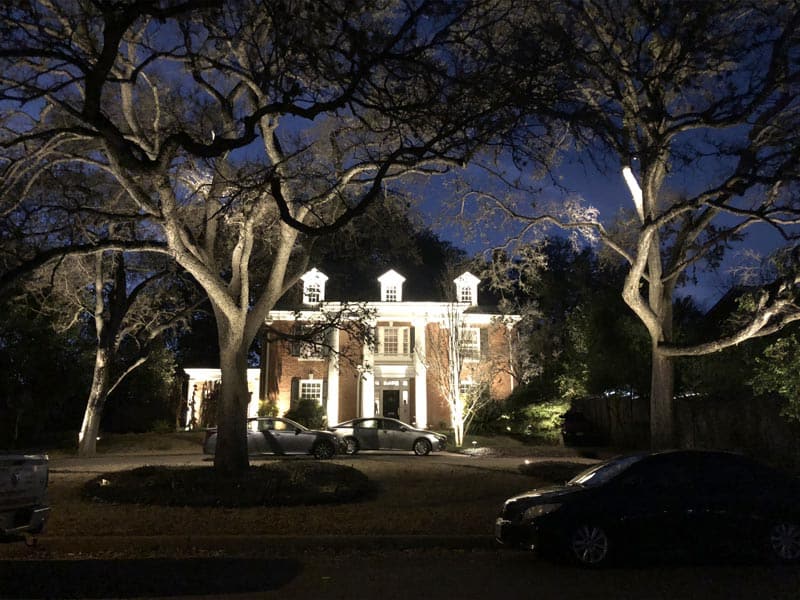 One of the most important aspects of any home is the ability to feel safe. Outdoor security lighting improves security by chasing away the spooky shadows and leaving less room for potential intruders to hide. Floodlights are one of the most popular forms of outdoor security lighting as they spread brilliant light over an expansive area, giving homeowners full visibility of their property at night.
However, many people are also a bit hesitant to invest in floodlights as they are worried that it will give the wrong areas of their home the spotlight, taking away from the beauty that they worked so hard to create. If you are worried about drawing attention to the wrong areas of your home with floodlighting, this article will help.
Our incredible outdoor lighting design team is here to share some of the techniques they use to install your floodlights and enhance, rather than detract from, the beauty of your home at the same time. Here is how you can install floodlights without the spotlight feel:
Highlight the Architecture
Your home is the crowned jewel of your property, so it makes sense that many homeowners want to show it off. While improving security, floodlighting can also add aesthetic beauty to your home. They can chase away the darkness, without drowning your home in bright light.
One of the main ways to do this is using floodlighting to illuminate the architecture of your home. By placing the fixtures low in the landscape, such as on the ground near pathways, and directing them towards the home, the fixtures create a pretty wash of light. Using the floodlights in this manner helps bring attention to the different elements of your architecture while keeping the shadows away from the walls of your home, making it harder for intruders to hide. This warm light is a deterrent for intruders and a warm welcome for guests.
Shed Light on the Landscape
Another gorgeous area to highlight that adds an extra layer of security is your landscape. The key to using floodlights here is to create a balance between beauty and highlighting key spots for security purposes. To create this balance, we use a mixture of lateral wash light and bullet fixtures. The lateral wash light gives the ground a gorgeous glow without washing out mother nature's natural beauty while the bullet fixtures highlight trees and bushes. This duo creates a captivating combination of light that enhances the intricate details of your plants and landscaping without overpowering them. It also ensures that potential intruders won't easily be able to hide in the bushes.
Layering the Light
When creating a balance of security lighting and highlights for the different elements of your home, layering is a must. Layering allows for softer light tones to be spread across your property without creating the harsh, blinding light that floodlighting is notorious for. To create a safer environment for you and your guests, floodlighting should always be accompanied by path lighting to bring attention to pathways. Path lighting helps guests get from one area of your property to another safely and significantly decreases tripping hazards that might otherwise have been hidden by the dark.
Need Help Creating Security Lighting That Enhances Your Landscape's Natural Beauty?
The team at Enhanced Outdoor Lighting & Design can help you create the perfect outdoor environment for your home with incredible outdoor lighting design. Chase away the shadows, improve your home's appearance, and compliment the beauty of your landscape by investing in your landscape lighting through Enhanced Outdoor Lighting & Design. Designing elegant outdoor landscape lighting is our passion and we look forward to working with you. Contact our team today for more information about our services or to schedule a consultation with our design team.
More Resources: