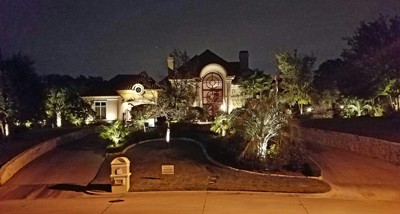 Choosing the right lighting for your property can be easier said than done. This is especially true when you're looking for lighting solutions that strike an ideal balance between looking great and providing added security to your property. At Enhanced Outdoor Lighting & Design, we specialize in helping homeowners in the Austin and San Antonio areas select the exterior lighting that best suits their security and aesthetic needs—and we're happy to offer some of our tips to you!
Highlight Interesting Architectural and Landscape Elements
For the best results, you want your outdoor lighting to be focused on major architectural spaces. This could include a garage, an outdoor seating area, an entryway, or something similar. By highlighting these elements, you can get rid of dark or shadowy places where intruders may otherwise choose to hide. Meanwhile, great lighting in these areas helps to direct guests so they know where they can safely enter your property.
Homeowners should also be careful to properly illuminate areas where family members and loved ones spend the majority of their time, such as porches and patios. This helps to show off the beauty of the home without overpowering other outdoor elements.
Lighting should also be carefully placed to keep visitors safe, such as around areas with stairs or changes in elevation. Path lighting can be used to help direct visitors around visually appealing areas of a property, such as a garden or pond. Having proper lighting in these areas may even help to reduce the chances of an accident or injury that you might otherwise be found at-fault for on your property.
Use Soft, Warm Light
Choosing the right type of lighting is also important when it comes to creating ambiance without sacrificing security in the process. Soft, warm lighting tends to be the best solution here because this type of lighting helps avoid blinding your guests while still introducing enough light to keep an eye out for suspicious activity.
Soft lighting also makes it possible to highlight some natural features on your property, such as plants or statues, without overpowering them and drowning out their natural color with lighting that is too bright or harsh.
Use Outdoor Lighting With Controllable Features
Adding customized controls to your outdoor lighting is a great way to achieve enhanced security while cutting down on energy use in the process. Some examples of ways to customize your exterior lighting include adding things like motion detectors, timers, and even dimmers. While outdoor lighting is used for beauty, having dimmable or programmable lights can keep your family safe while providing enough darkness to sleep.
For instance, you may program your lights to automatically dim around 11 PM each night. The dimmer lighting will still offer plenty of illumination for security purposes, but will prevent bright light from shining in through windows and preventing your family from sleeping soundly.
Motion detectors are another popular feature that many homeowners are incorporating into their outdoor lighting designs. Lights that automatically turn on when movement is detected can be a great way to deter criminals. Many homeowners choose to put floodlights and other harsh lighting features on motion detectors; this way, they're only illuminated when motion is detected on the property and stay off otherwise.
Some popular locations to consider setting up motion detection lighting on your property may include around garages and sheds, as well as along the sides and rear entryways of your home.
Create Ambiance With Fewer Dark Spaces
A well-lit space is less traveled by intruders. The next time it's dark out, take some time to evaluate your home for dark spaces where intruders could hide undetected. You may want to consider adding some downlighting and spotlighting to these areas. This can help better illuminate these spaces, keeping them safer at night. Moonlighting can achieve the same effect while creating the ambiance of a full moon, so this is something to consider as well.
Use a Professional Outdoor Lighting Company to Enhance the Beauty of Your Backyard
As simple as these tips may be, implementing this advice can make a huge difference when it comes to the overall security and beauty of your property—especially at night. By choosing the right areas to illuminate, you can deter intruders and other criminals from setting foot on your property. Meanwhile, selecting the right type of lighting (such as soft and warm light) can help your property retain its ambiance all night long.
Still feeling overwhelmed by your options when it comes to outdoor lighting? Let our team of experts help you! Enhanced Outdoor Lighting & Design specializes in outdoor lighting, security lighting, landscape lighting, and everything in between. We'd be happy to make some personalized recommendations for your property.
Give our office a call to set up your free consultation and quote. We proudly serve the areas of Austin and San Antonio, and we look forward to working with you!