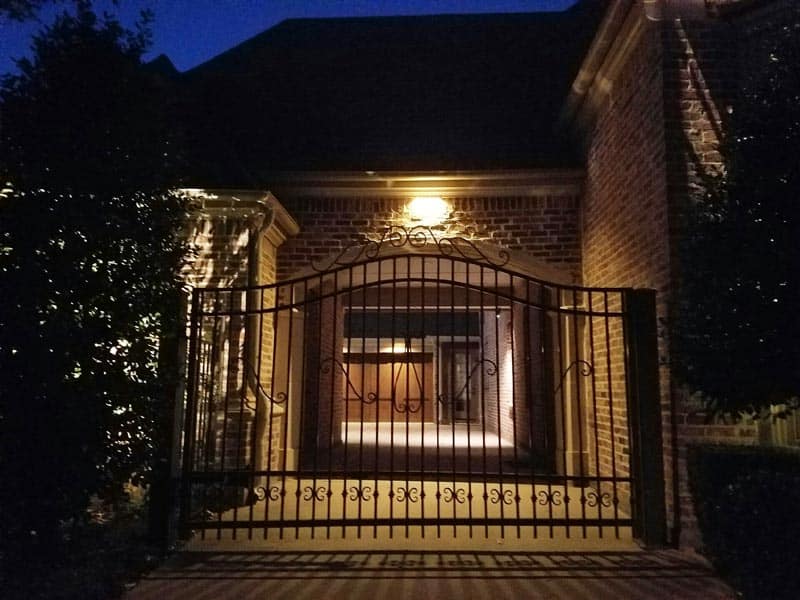 You want to keep your home and family as safe as possible, and one of the best ways to accomplish this is to add security lighting to your home. With a wide range of security lighting options, knowing what your security needs are and which lights best meet those needs is important. Here are some features and benefits of each type of security lighting and tips to make your security lighting as effective as possible.
Motion-activated Lights
Motion-activated lighting is an extremely important part of home security. While having constant light on all night can help deter crime, it is not the most effective solution. Motion lights can catch intruders off guard, startling them and making them think twice about approaching your home.
Another benefit of motion-activated lights is that they are energy-efficient as they are only turned on when they sense motion. This helps cut down on energy-consumption while not sacrificing any security benefits. While there is the concern of motion-activated lights going off during the day, we know this isn't going to happen. Motion-activated lights have built-in light sensors so that they only go off between dusk and dawn.
Motion sensor lights can also be adjusted to ignore the movement of small animals, such as dogs and cats, to make sure that your pet or other small animal don't trip the lights.
Timed Security Lighting
To illuminate your home's exterior throughout the night, install timed security lighting. This lighting is great for deterring intruders and providing directional light at night. Since the length of the night varies greatly by season, you can adjust the hours of operation.
Floodlights
Floodlights are great options for security lighting. These lights are very strong and bright. Using LED floodlights will brightly light your yard for a fraction of the energy that incandescent lights use.
Floodlights are very bright and can affect some people's sleeping patterns if not installed in smart locations. Motion-activated lights can help you direct the beams and avoid lighting your or your neighbor's windows at night.
High-Intensity Discharge (HID) Security Lights
If you have a large amount of land, such as a ranch or expansive fields that you want to illuminate, HID lights may be a better option than floodlights. HID security lights are commercial-grade lights intended for use on commercial buildings and lots, but residential homes with large amounts of land can reap their benefits.
Exterior Soffit Lights
Soffit lights are installed on the overhang that sits in front of your home's entrance. This overhang is known as the soffit. These lights are designed to add an extra layer of lighting to the area in front of your porch where normal porch lights are not able to reach. Not only does this allow you, your family, and guests to better see the entrance, but it removes the shadows near your door and discourages intruders from trying to break in.
Outdoor Coach Lights
Coach lights are a stylized option and can complement your home's aesthetic while lighting your driveways and walkways.
Combining Security and Beauty
Combining different types of outdoor lighting, along with your security lights can be an effective way to keep your home safe while helping you feel proud of our outdoor space. From garden lighting to landscape lighting, Enhanced Outdoor Lighting & Design can help you find the perfect solutions for your home. We meet with our clients to learn their needs and budget and come up with an outdoor lighting design solution that meets their needs and surpasses their expectations. Contact our team today for more information on our security lighting options or to schedule a consultation with our lighting design team.