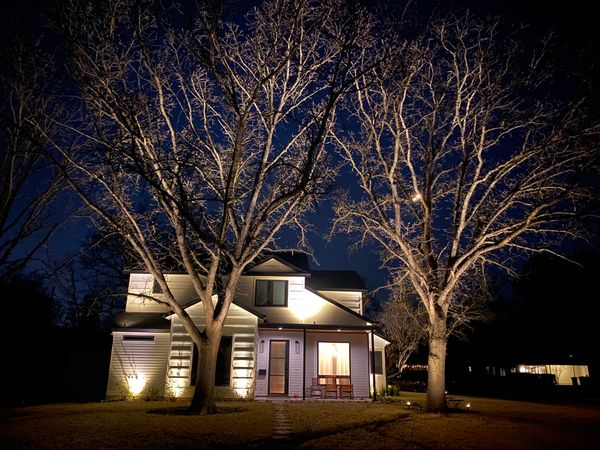 Your outdoor space unites the style and comfort of your indoor atmosphere with the beauty of good illumination. Quality outdoor lighting creates an effect that transforms an otherwise ordinary home setting into something exceptional and distinct.
The Best Outdoor Lighting & Design Company in Lago Vista, Texas
Enhanced Outdoor Lighting & Design is a family-owned and operated business that installs LED outdoor lighting in Lago Vista, Texas. We're your professional partner in accentuating your home or business appearance. Our professionals are dedicated to providing your outdoor space with a magnificent transformation that will appeal to everyone. 
At Enhanced Outdoor Lighting & Design, our customers are our priority, so we aim to provide top-notch service. Our LED fixtures come with a 15-year warranty, translating to 40,000-hour lamp life; the upgradable LED lamps come with a 6-year warranty.
Services Offered to the City of Lago Vista, Texas
Enhanced Outdoor Lighting & Design provides you with different designs for outdoor lighting.
Landscape Lighting
Landscape lighting is a great way to add a touch of elegance and style to your home. A well-lit landscape can add a sense of calm, security, and beauty to your property. You can use it to highlight key features on the exterior of your homes, such as plants or statues. Furthermore, it can illuminate walkways or driveways, making them safer and more welcoming at night.
Landscape lighting can highlight critical architectural details in your home to give your home an aesthetically appealing feel to make your guests comfortable and relaxed.
A well-illuminated yard adds to your home's curb appeal and keeps your gardens safe from animals and passersby at night.
Your landscape lighting can be achieved by:
LED Lighting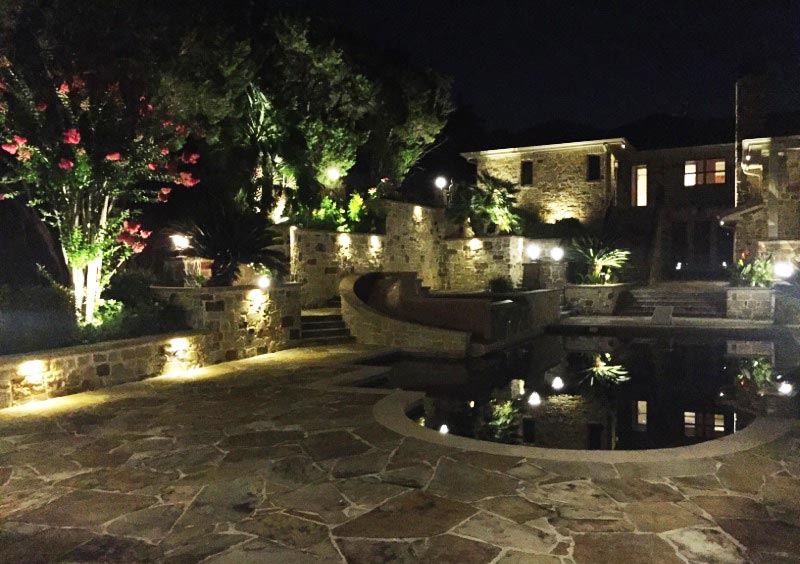 If you're looking for a cool way to add ambiance to your outdoor space, look no further than our state-of-the-art LED Lighting. LED lights are the latest technology being used in the lighting world. LED stands for "light-emitting diode," made up of semiconductor chips that emit light when an electric current passes through them. They last longer than other bulbs, use less energy, and produce less heat, which can help reduce your bills.
We offer a wide range of options, and our designs will blend in with your home's natural aesthetic. In addition, our LED lights are available in various colors and brightness levels so that you can choose the perfect hue for your space. You're sure your plants and architecture are safe with LED lighting since they do not get hot like traditional bulbs. They are also nontoxic.
Security Lighting
Another essential service we provide here at Enhanced Outdoor Lighting & Design in Lago Vista, Texas, is security lighting. We know that new additions to your home's security system can make a big difference to your family's safety. This makes security lighting one of the essential parts of a home security system since it provides a sense of peace that comes with knowing you're protected.
If you already have one home security system, we'll add security lighting to complete it. Our design uses LED lights which are excellent at highlighting specific places like dark spots, the garage, pathways, patio, or perimeter wall.
Security lighting is an excellent deterrent against crime and helps protect your home from break-ins. If someone approaches your home with lighting features, he or she may decide it's not worth trying to get into after all. They know it will be too difficult to navigate around the light. This can help deter criminals from choosing your home as their next target.
In addition, the bright lights also make it easier for neighbors to notice suspicious activity and call the police. Security lighting is also an easy way to add style and value to your property, so it's a win-win.
Local Resources and Events for Lago Vista, Texas
Lago Vista, Texas, is well known for its natural beauty. From the shimmering waters of Lake Travis to the lush Hill Country landscape, the city provides a wealth of opportunities for outdoor recreation.
Events
4th of July: 4th of July or Independence Day is close to the heart of every American citizen, so at Lago Vista, Texas, we celebrate. The day has many activities such as racing, a fun run, parades, and fireworks.
Christmas tree lighting: Every year, Lago Vista holds an annual Christmas tree lighting where all residents, young and old, come together to celebrate. The Christmas tree is uniquely and beautifully decorated with perfect illumination that lights the entire town.
National Night Out and "Trunk or Treating": This is a night where police and the community share food and refreshments to bond and help build a police-community partnership and enhance safety and security in the area. 
Ordinance and Permit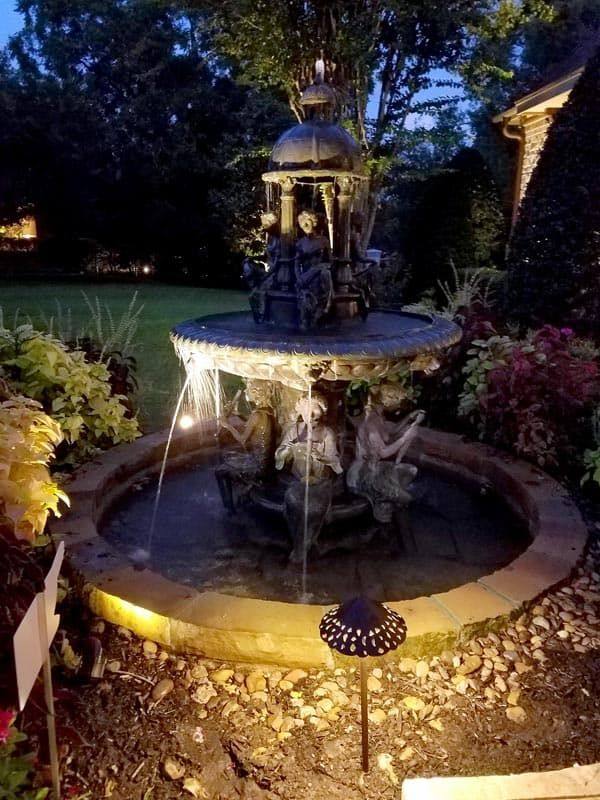 If you want to install, change or remove any electrical, mechanical, gas, or plumbing system, apply to the Development Services office to receive a permit.
According to ORDINANCE NO. 18-06-21-03, any external or exterior lighting must meet the criteria of Article 3.800, Chapter 3.
Light up Your Lago Vista Home Today!
Outdoor lighting creates a welcoming ambiance in your home. In addition, it helps enhance the safety and security of your home. Enhanced Outdoor Lighting & Design in Lago Vista, Texas, is here to help you achieve this. We love what we do, and it's clear in all our jobs. Also, we take pride in every job we do, working with our clients to create a custom lighting plan that fits their needs and budget. Let us know how we can brighten your home or business by calling us today. You can also write to us online for a free estimate.