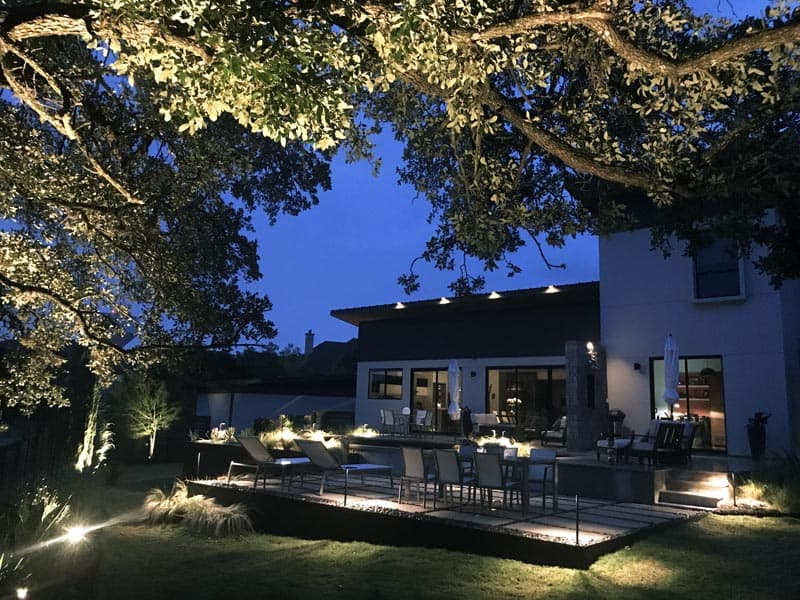 Enhanced Outdoor Lighting and Design in Converse, TX
Enhanced Outdoor Lighting and Design
Phone Number: (512)359-0071
Hours of Operation: Monday – Friday: 7 am – 5 pm
Premier Outdoor Lighting Design in the City of Converse, Texas
Since Converse, Texas is well known for its gorgeous summer and fall nights, why not make the most of your beautiful surroundings by investing in high-quality landscape lighting? Enhanced Outdoor Lighting and Design is Converse's premier outdoor lighting design company. We offer a wide range of solutions to fit the style and function of any outdoor space. From poolside lighting that shows off your outdoor oasis in its best light or pathway lighting to safely guide guests around your property, we have the perfect designs to meet your needs and surpass your expectations. 
Services Offered to the City Of Converse, TX
Residential Outdoor Lighting
The pride and love that goes into your home can be seen during the day but the veil of night covers the hard work that has gone into the beauty of your home's architecture. Show your home off in the best light with residential LED outdoor lighting. Our team can help bring out the intricate details of your home's brick, stone, or woodwork, showing off the passion and dedication that went into it. 
Our team only uses the most durable LED lighting for our clients in Converse, Texas, ensuring that your property is never left out in the dark. Contact our team today for more information.
Poolside Lighting
Pools are a great way to relax after a stressful day. Take a dip into the cool waters and feel reassured that you are safe with proper poolside lighting. Poolside lighting helps show off your home's oasis. Having your pool properly lit ensures that you and your guests can see the edges of the pool and alert someone to the first sign of trouble. Increase the safety and beauty of your pool with a professional poolside lighting design consultation!
Patio Lighting
Your patio is an extension of your home, giving you more living space in which your family can relax and enjoy. Don't limit yourself to only enjoying this valuable space during the day and instead, contact the trusted team at Enhanced Outdoor Lighting & Design for help! Our team offers affordable and beautiful patio lighting options that will take your patio to the next level. Set the mood for a quiet conversation outside or take a moment to yourself and enjoy your favorite book under the stars. 
Local Resources and Events for Converse, TX
Whether you are adding new lighting to a patio or deck, or you need to light up your swimming pool, take advantage of our local outdoor lighting design and installation services.
Update Your Outdoor Space Today
The dedicated lighting professionals at Enhanced Outdoor Lighting & Design are proud to serve the community of Converse, Texas with all of their outdoor lighting needs. Whether you are looking to update an existing outdoor lighting design or need outdoor lights on a new home build, you can rest assured that our team can help! Contact us today for more information or to schedule an appointment with our design team.