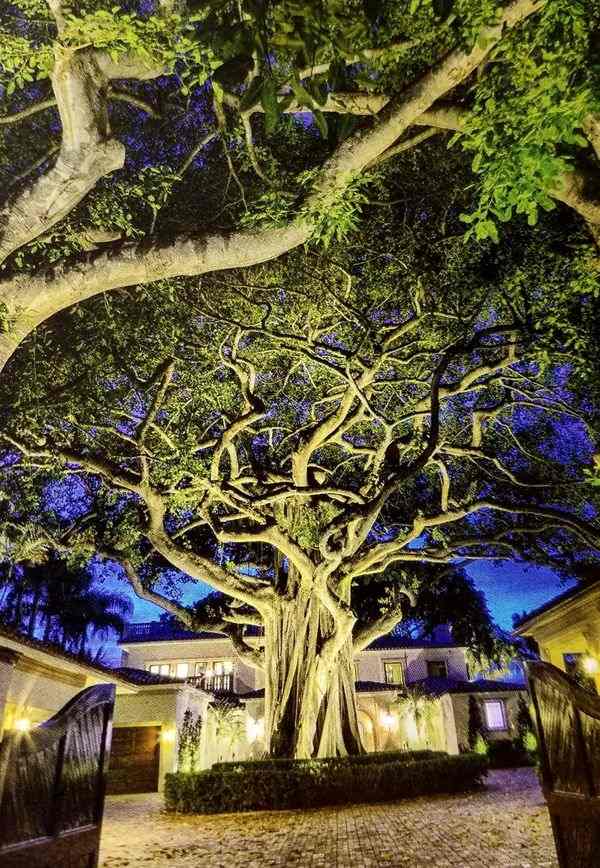 There is more and more concern about our impact on the world around us. You may feel like you need to adjust your lifestyle to minimize your carbon footprint, but rest assured, you don't have to completely give up the safety and beauty that comes with outdoor lighting.
When you implement some of these techniques that our knowledgeable team at Enhanced Outdoor Lighting & Design has put together, being concerned for the environment doesn't have to be mutually exclusive with gorgeous outdoor lighting.
Make the Switch to LED Bulbs
One of the best ways to make your outdoor lighting more environmentally friendly is to make the switch from incandescent to LED lighting. LED lighting is designed to reduce the energy needed to light the bulbs so, in addition to conserving energy, this can cut electricity costs for both businesses and homeowners.
In fact, the United States Department of Energy reported that homeowners who use LED lighting saved at least 7% on their energy bills. LED lights also last about 25 times longer than traditional LED lighting, saving you money on replacement costs and reducing overall waste for the environment.
Illuminating the Patio or Deck to Conserve Energy
Spring and summer create the perfect opportunity to spend time outdoors. Outdoor lighting can help you extend the time you are able to spend outside and enjoy the lovely weather.
For example, having dinner outside with family and friends can give you the opportunity to spend time outside, create great memories, and conserve energy by reducing time spent watching tv, playing games on the computer, etc. However, it may get dark by the time dinner time rolls around which makes it much less enticing to have an outdoor dinner. 
LED outdoor patio lighting can help you safely navigate around your patio and set the right mood for your outdoor event, no matter the time of day. If you have an outdoor kitchen, you can even use task lighting and accent lighting to play double duty for your needs.
For example, bistro lighting can be used for your outdoor kitchen to provide ambience and atmosphere, the ability to see what you are cooking, and even act as dining room lighting for your guests.
Using Motion Detectors, Timers, and Smart Technology
One of the biggest issues with outdoor lighting is that sometimes the lights are on when they are not needed, such as the early part of the morning or when the homeowners are not home. Thankfully, advancements in the outdoor lighting industry have created great options to help homeowners only use their outdoor lighting when needed to help save energy and reduce nuisance.
Motion Detectors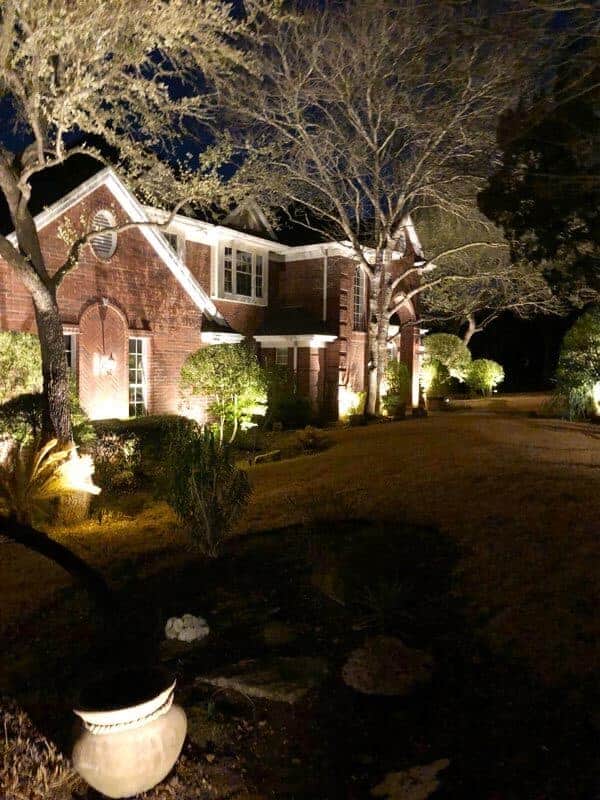 Outdoor lighting can act as security lighting, chasing away blind spots and making your landscape safer to navigate for guests. Motion detectors installed with your outdoor lighting can ensure that the lights only come on when something is moving on your property.
This can catch burglars off guard, making them think twice about approaching your home. They don't just ward off foes, though; they can also be helpful to friends.
Motion detector-activated lighting can help guests and family members safely navigate your property, reaching their destination safely while helping to conserve energy by turning the lights off once the movement has stopped. 
Timers
Timers ensure that your lights come on only during the appropriate times as needed. For example, if you come home late from work, an automatic timer can turn your lights on at a specific time, making sure they are on to welcome you home before you even get there.
Timers also help ensure that the lights are cut off when they are not needed, such as the early hours in the morning when the sun starts to come up or after you have gone to bed.
Smart Technology
Smart technology is also available with some fixtures, allowing you to control your home's outdoor lighting with your phone. With this technology, you can control your outdoor lighting from anywhere, turning it on and off with just the press of a button. This offers you increased customizability and immediate control whenever and wherever you are.
Want Eco-Friendly Outdoor Lighting?
It's never too early to do your part to help the environment and save on your energy bills. Our experienced team at Enhanced Outdoor Lighting & Design will work with you to find the perfect combination of sustainability, savings, and beauty. Contact us today to schedule an appointment or consultation!
More Resources: