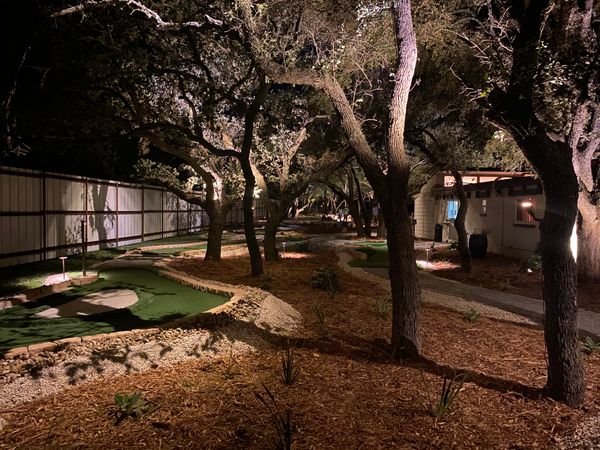 Enhanced Outdoor Lighting & Design Braunfels, Texas
Enhanced Outdoor Lighting & Design
Phone Number: (512) 359-0071
Hours of Operation: Monday –Friday, 7am – 5pm
Exceptional outdoor lighting services in New Braunfels
A family-owned and operated business, Enhanced Outdoor Lighting & Design proudly provides the residential and commercial properties of New Braunfels, Texas, with all of their outdoor lighting and design needs. Looking to brighten up your outdoor spaces? We can help take whatever you're envisioning from design to installation. Learn more about our services below!
Services Offered in the City of New Braunfels
Outdoor Security Lighting in New Braunfels
Security lighting enhances the safety of homes and businesses. At Enhanced Outdoor Lighting & Design, we can configure your security lights so they don't detract from the beauty of your outdoor space. Additionally, our team can set up your security lights to optimize their effectiveness in New Braunfels. 
Darkened stairsteps and pathways present tripping hazards. By adding the appropriate lighting, you can help protect your guests and yourself from injuries or accidents.
Security lighting also gives intruders less places to hide, making them feel exposed and decreasing the chances that your home will be chosen as a target. Outdoor security lighting works best when used along with other measures such as a security system, cameras, and smart planning.
Pathway Lights in New Braunfels
Our team can create attractive lighting to illuminate your walkway. Not only will it enhance the look of your property at night, but it will also make walking safer. Path lights can help you avoid stepping on plants and highlight potential tripping hazards. Enhanced Outdoor Lighting & Design offers several pathway lighting options to enhance your property. Adorn your pathway with garden lights, downlights, bollard lights, or flush lights.We can help you pick out the best lighting to complement your pathway.
Patio Lighting in New Braunfels
Transform dark Texas nights into an oasis of laughter and conversation by bringing beautiful lighting to your patio. With a great lighting setup, you'll be able to spend more time outdoors at night while still feeling safe. Plus, our team will design lighting that emphasizes the beauty of your home. 
With a range of ways to light your patio, we'll help you choose the best option for your situation and aesthetics. For example, mood lighting can be used to set the tone for a relaxing night talking and drinking on the patio or you can brighten your home's entrance to welcome guests with wall lights. There are so many options—let us be the ones to help you choose the best one!
Local Resources and Events for New Braunfels
At Enhanced Outdoor Light & Design, we can take your project from design to installation. Reach out to our exceptional team and begin your journey to a brighter and more beautiful home or business today!