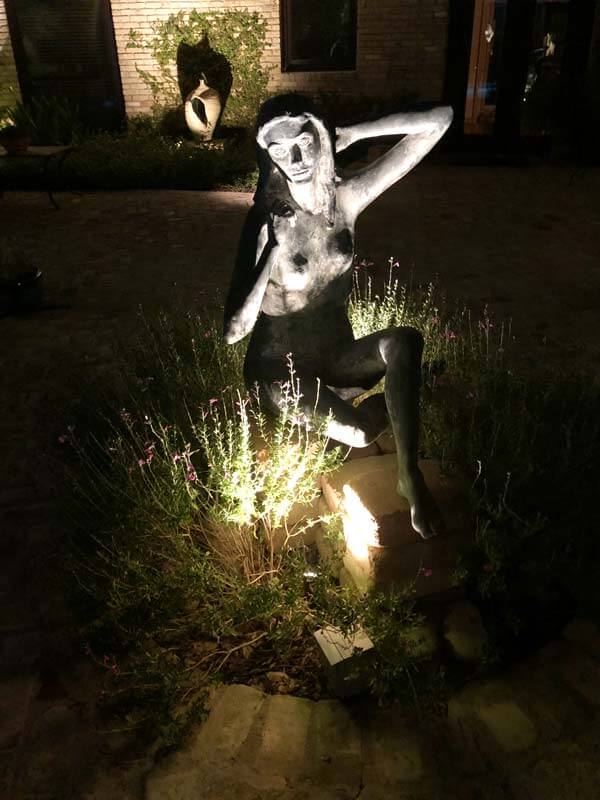 From creative costumes and spooky jack-o-lanterns to trick-or-treat bags overflowing with candy, Halloween is a beloved holiday for many Americans. As you are getting ready to celebrate this spooktacular season with your family, you may be looking to turn your yard into a haunted experience. Ghosts flowing around your trees, a spooky face cutout on your door, witches, and skeletons lounging around in your yard… the possibilities are endless. Our team at Enhanced Outdoor Lighting & Design loves Halloween and we have some ghostly ideas for your outdoor lighting.
Pumpkins, Spotlights, and Shadows
When it comes to outdoor lighting and Halloween, the two go together very well. Your normal outdoor lighting, such as spotlights, floodlights and path lights, can be used to complement the decorations you plan to use. Here are some examples:
Pumpkin Path Lights
Path lights are versatile and provide the perfect amount of light to show visitors and your family where it is safe to walk. Halloween stores offer cute pumpkin-shaped or lantern-shaped path lights to help give your home a spooky feel. You can also consider placing small jack-o-lanterns with tea lights on stairs and entryways to help provide a small amount of festive light that blends well with the rest of your decorations.
Eerie Spotlights
Spotlights are typically used to highlight focal points of your yard or special features such as a rare plant or fountain. You can also use them to highlight some of your spooky decorations. Have an IT inflatable or a scene of zombies coming out of their graves? A spotlight can help highlight these key points in your yard, capturing the attention of trick-or-treaters and heightening the eerie feeling. Also, the shadows falling behind your scene or special decoration will help add to the spookiness, giving your yard a spine-chilling feel.
Timers and Motion Detectors
Motion lights and timers can help your Halloween lights come on exactly when you want them to. Not only does this help save on energy costs, but it also adds to the creep factor when your trick-or-treaters set off certain light effects or sounds that are programmed to a timer or motion detector.
Hauntingly Beautiful Outdoor Design
Even when Halloween is over, keep your house painted with beautiful light. The passionate lighting design team at Enhanced Outdoor Lighting & Design can help you create a display that is immaculate and captures the attention of anyone who passes by. Our team doesn't overpower the beauty of nature or your home but enhances it instead. Contact our team for more information or an estimate on your outdoor lighting today!