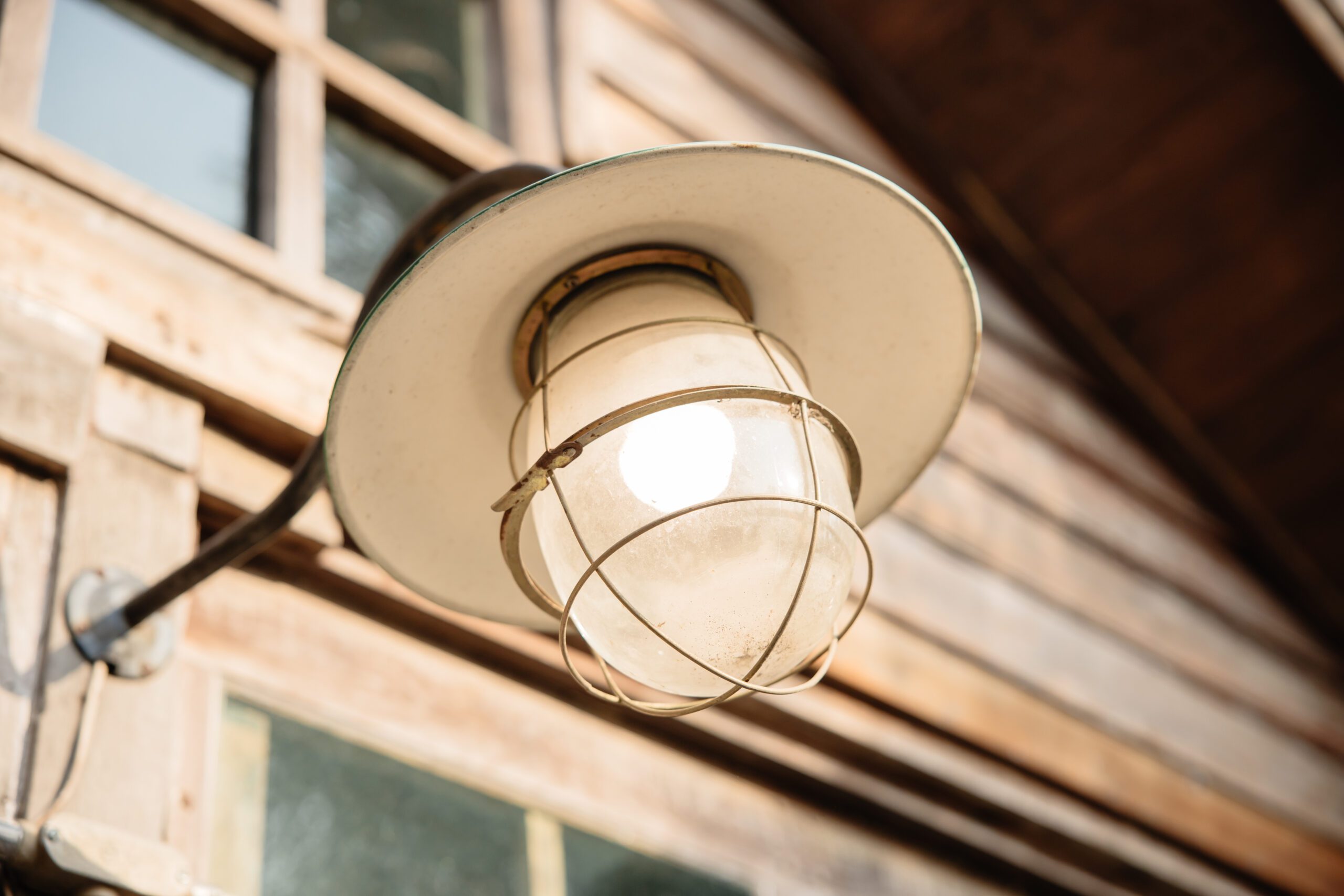 When selecting light fixtures for your home's exterior and landscape, the options may seem daunting. To help you out, in this blog post, the Enhanced Outdoor Lighting & Design team will look at different types of outdoor farmhouse and barn light fixtures and explain the benefits of barn lighting.
With all lighting, selecting fixtures suitable for their intended area is important. You can find the right lighting fixtures by speaking with a reputable lighting professional.
Please note: Working with electricity is dangerous and should be left to professionals.
Exterior Barn Lighting Ideas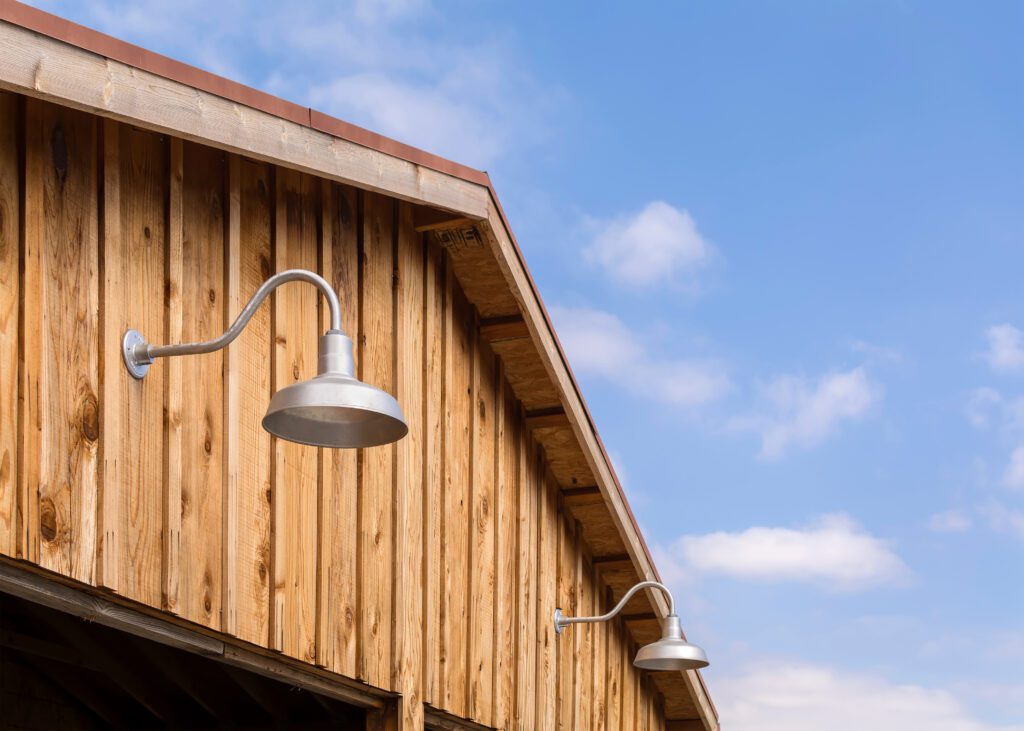 Outdoor farmhouse and barn lighting offer a timeless look that fits a variety of applications. The barn light style is inspired by lights used to illuminate barns and industrial spaces. Outdoor barn light fixtures come in many designs that can add visibility and beauty to your home's exterior and landscape.
Classic Outdoor Barn Lights, AKA Yard Lights
The classic outdoor barn light features an S-shaped arm and a round head fixture. The head and lens typically aim light down at the ground. Classic outdoor barn lights are often referred to as yard lights because they are used outside garages and other structures to illuminate yards.
Gooseneck Lights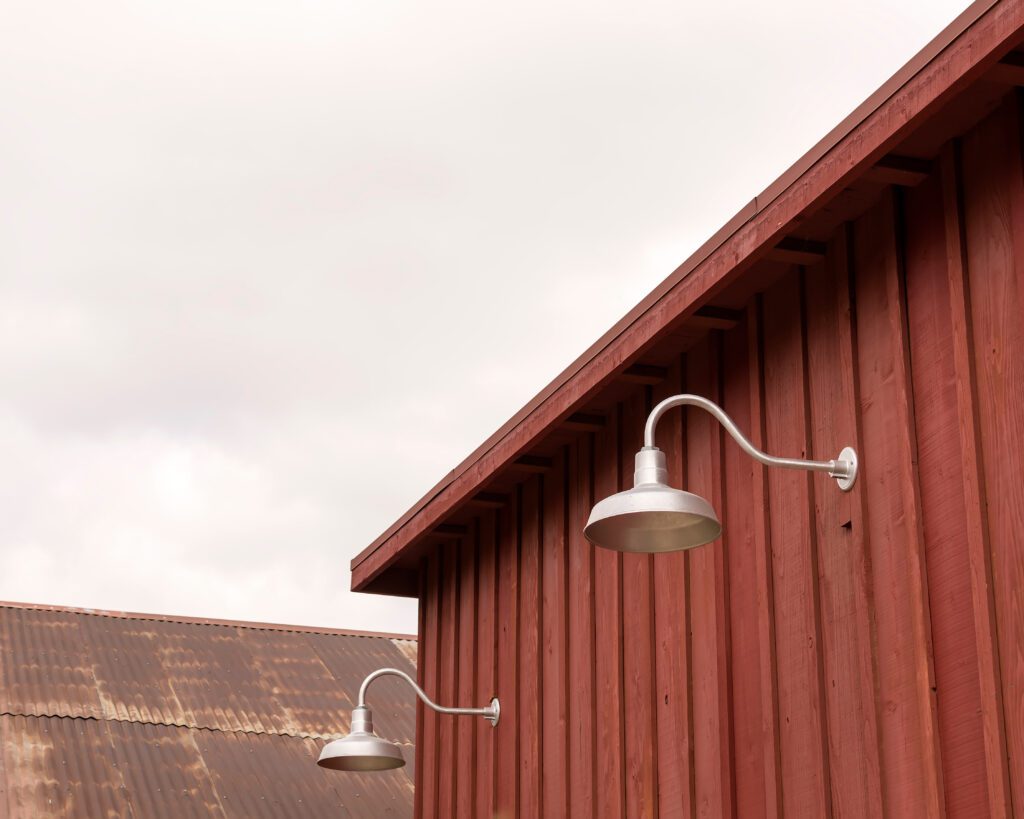 A gooseneck light is the most popular type of barn light. Gooseneck lights feature a curved arm that connects the fixture to the wall. They work well for illuminating garage doors, commercial and residential building exteriors, and warehouses. The higher a gooseneck light is installed, the further out it can illuminate the area below.
Barn Light Sconces
A barn light sconce is similar to a gooseneck light, but it has a considerably shorter gooseneck arm and a smaller shade to avoid coming into contact with a wall. Due to their size, barn light sconces are excellent for illuminating smaller areas. Barn light sconces are great for illuminating columns, posts, and doorways.
Sign Lights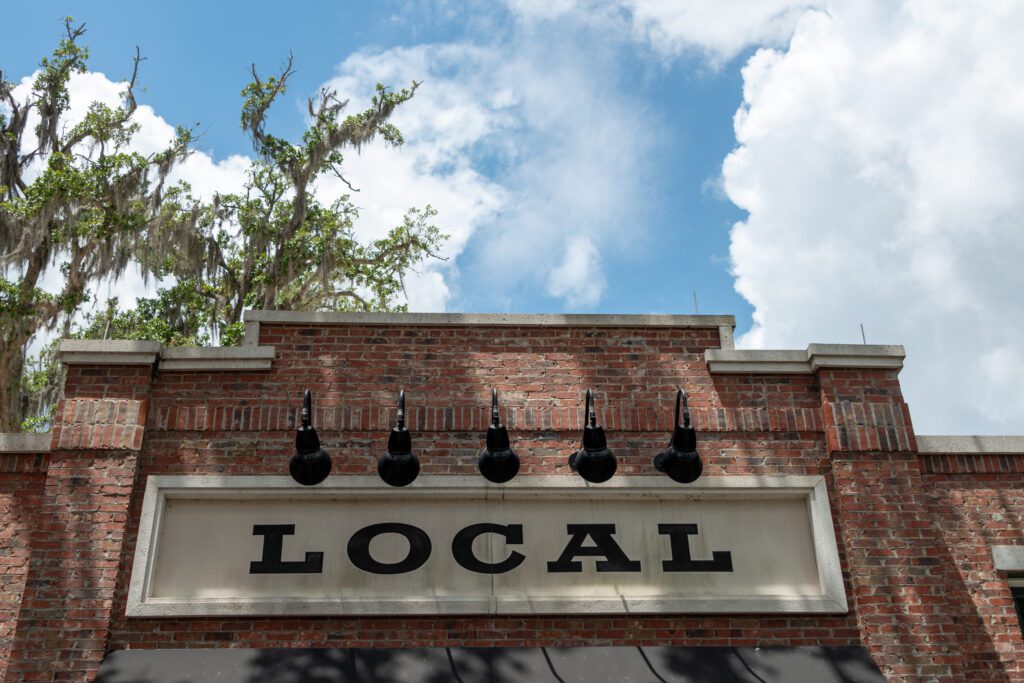 Sign lights are versatile and operate on a swivel joint that lets their shade rotate 180 degrees. Since sign lights have a gooseneck, they can turn toward or away from a wall. Sign lights are perfect for attracting attention to businesses and illuminating storefronts, billboards, and A-frame signs.
Pendant Barn Lights
Please note: Certain pendant barn lights are intended for indoor use only. Some pendant barn lights have a downrod that protects them against high winds and water. Pendant barn lights are excellent for illuminating patios, outdoor bars, seating areas, and barbecues.
Barn Light Post Lamps
Barn light post lamps feature a range of colors and shade lamps. For a polished and consistent look, you can place barn light post lamps around your property. They are great for illuminating paths, walkways, outdoor seating areas, and decks.
Straight Arm Lights
Straight arm lights have a mount that looks like a straight arm. Straight arm lights can add a charming touch to porches.
Benefits of Outdoor Barn Lighting
Outdoor barn lights have several features that offer unique benefits. Let's look at a few advantages of outdoor barn lighting.
Aesthetic Versatility
Outdoor barn lights come in numerous styles, from modern and sleek to rustic and timeless. They are also available in various finishes, so you'll be able to find one with a look that matches your needs.
Rugged Design
Many barn lights are constructed from steel and aluminum. These durable materials can withstand harsh weather.
Please remember that outdoor barn lights can vary in quality, and for safety, it is essential to use the right one for your specific situation.
Farmhouse Outdoor Lighting
While farmhouse lights may conjure up images of a time-worn home sitting on a Midwestern plain, they actually come in myriad designs, from modern to rustic and reimagined classic styles. You can get farmhouse lighting with an industrial aesthetic, exposed light bulbs, weathered finishes, and more.
Metal Caged String Lights
Metal caged string lights add a vintage farmhouse touch to your space.
Farmhouse-Style Lantern Lights
Whether you want a modern metal design or a classic wood one, farmhouse-style lantern lights are excellent for patios, porches, and sunrooms.
Outdoor Farmhouse Pendant Lights
Outdoor farmhouse pendant lights work great on covered patios.
Please be aware that not all pendant lights are suitable for outdoor use.
Farmhouse & Barn Lighting in Austin and San Antonio, Texas
If you want to add the timeless charm of outdoor farmhouse or barn lighting to your Austin or San Antonio, Texas, home, the Enhanced Outdoor Lighting & Design team can make it happen. One of our skilled designers will visit your home during the day to understand your property and goals better. Once we've installed your lighting, we'll return to make any necessary adjustments.
Along with farmhouse and barn light lighting designs, our team can help you with other types of outdoor lighting.
We look forward to enriching your home with outdoor farmhouse or barn lighting. Contact us for a free estimate!