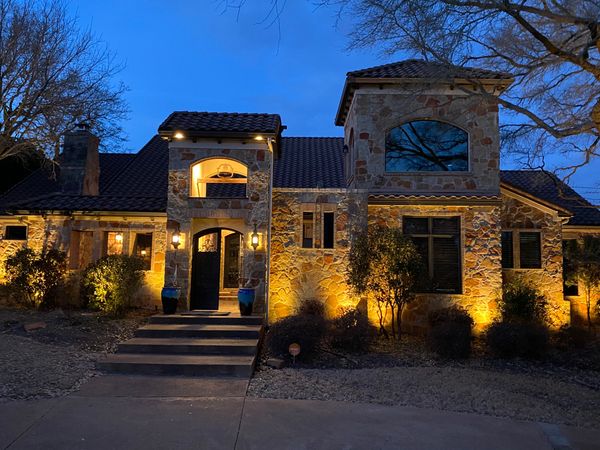 Enhanced Outdoor Lighting & Design
Phone: (512) 359-0071
Hours of Operation:
Monday – Friday: 7 AM – 5 PM
Saturday – Sunday: Closed
Outdoor Lighting & Design in Alamo Heights, Texas
If you are looking to create a unique outdoor living space for your Alamo Heights home, Enhanced Outdoor Lighting & Design can help! Our team offers a wide range of products and solutions for your outdoor lighting needs, ensuring that we can match any style or function you have planned for your outdoor space. Whether you want magnificent poolside lighting to provide security and calming ambiance or garden lighting to create a serene place to take an evening stroll, you can rest assured our team has the designs and fixtures to surpass your expectations!
As a family owned and operated business, Enhanced Outdoor Lighting & Design puts our clientele first and treats them like family. Our designers have a keen eye for design and can create custom outdoor lighting designs that enhance the beauty of your outdoor space without overpowering it and washing it out. Enhanced Outdoor Lighting & Design only uses the most trusted products in the industry and backs all of our LED fixtures with a 15-year or 40,000-hour lamp life warranty. All of our 'retrofit' or upgradeable, replaceable LED lamps have a 6-year warranty.
Services We Offer the City of Alamo Heights
Patio Lighting for the Home of Alamo Heights
There is nothing quite like going out onto your patio after a long day of work with a glass of wine and a good book to let the day's worries melt away. Outdoor lighting for your patio can help transform it into a calming space or make it bright enough to entertain guests. Enhanced Outdoor Lighting & designs offers expert patio lighting solutions for your Alamo Heights home so that you can turn your patio space into an extended living space for your home! Contact our team today for more information about our outdoor patio lighting options!
The Protection of Security Lighting
One of the best uses for outdoor lighting is security lighting. Security lighting can help increase the value of your home or business, and create safer conditions for those on the property. Outdoor lighting can act as a deterrent for home intruders, by chasing away the shadows and their place to hide. Outdoor lighting can be balanced to provide your home with both aesthetic beauty and protection. Contact our team for more information about how you can balance the beauty of your security lighting today!
Landscape Lighting in Alamo Heights, Texas
Whether you want to highlight a few features of your landscape or enhance the entire area, you can achieve those goals with landscape lighting. Landscape lighting allows you to strategically light up the exterior of your home or business, allowing the beauty of your yard or the outside of your business to be appreciated by night. Quality landscape lighting starts with identifying the gorgeous natural elements of your home and accentuating those features. This helps give your neighbors or customers the best first impression possible.
Resources for the City of Alamo Heights

Enhanced Outdoor Lighting & Design is proud to serve the hardworking individuals of Alamo Heights, Texas, and the neighboring cities, such as San Antonio. For more information on our services or to schedule a consultation, contact the trusted team of outdoor lighting professionals at Enhanced Outdoor Lighting & Design today!
Local Reviews
for Alamo Heights, TX
---