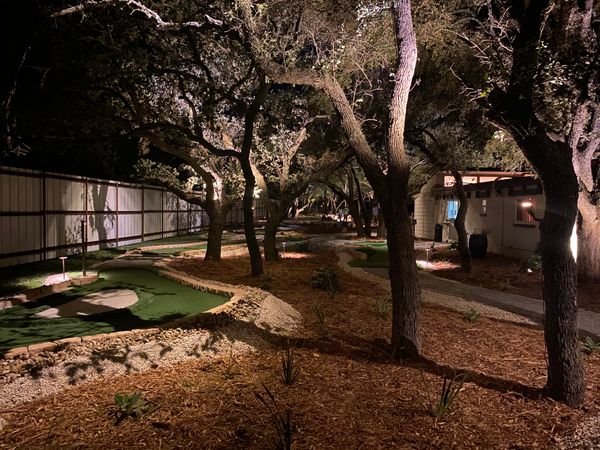 Enhanced Outdoor Lighting and Design in Kyle, Texas
Phone Number: (512) 359-0071
Hours of Operation: Monday-Friday: 7 AM – 5 PM
Leaders of Outdoor Lighting Services in Kyle, TX
Enhanced Outdoor Lighting & Design proudly provides the residential and commercial clients of Kyle, Texas with all of their outdoor lighting needs. Our award winning team has the knowledge, expertise, and experience to bring your outdoor living spaces to life, enhancing their beauty and allowing you to enjoy them long after the sun has gone down.
Our LED fixtures are backed by either a 15-year or 40,000-hour lamp life warranty to protect your investment. We only use the highest quality LED lights on our projects to ensure that our clients get the most bang for their buck.
Each service begins with a consultation so we can understand what you're looking for. Then, our design team visits your space during the day to get a feel for the property. Based on this, we'll create a design you're sure to love and, once we have your approval, install it. Finally, we'll check to make sure that everything looks perfect. With our keen eye for detail, you can rest assured that your outdoor living space will look better than you could have ever imagined.
Services Offered to the City Of Kyle, TX
Outdoor LED Security Lighting
Being able to provide a sense of security is essential for any home or business. Enhanced Outdoor offers the best security landscape lighting options for the city of Kyle, Texas. We will make sure your pathways and shadowy areas are well-lit without being harsh or blinding.
Don't leave your home or business poorly lit and vulnerable. Call our professional outdoor lighting team today!
Pathway Lights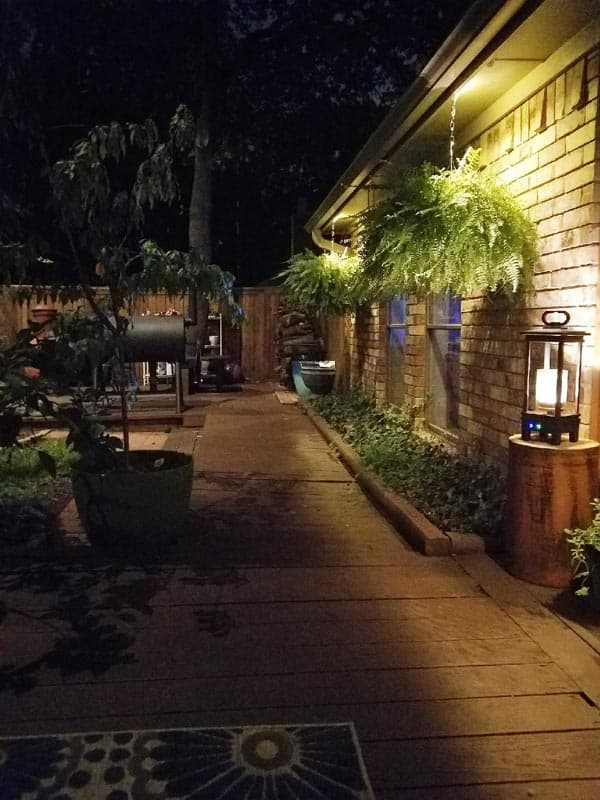 Your pathways and driveway provide a safe space for guests or customers to walk around your property. However, without the proper lighting, guests may not be able to see changes in elevation or hazards on the path, resulting in trip-and-fall accidents. Keep your pathways safe by investing in pathway lighting. We'll help you mark the safe path creating a pleasant and welcoming environment for your home with our incredible LED pathway lights.
Garden Lighting
Another prime feature of any outdoor area is a garden. Whether you grow prized heirloom tomatoes or love garden flowers, you need garden lighting. This type of lighting helps reduce pests in your garden while showing off your hard work. Our LED garden lights will compliment the beauty of your plants, highlighting their natural coloring without washing them out.
Local Resources and Events for Kyle, TX
Whether you are constructing a new house or remodeling an existing structure in Kyle, there are several local resources at your disposal. Here are some local resources for your outdoor landscaping needs:
Additional resources are available in surrounding cities of Kyle, including:
The Kyle, TX City Code of Ordinances Library is an online resource for the general public to learn more about the laws surrounding building codes. These are extremely important to know and have on hand for any larger outdoor project.
Transform Your Outdoor Space This Season
If you are ready to transform your outdoor living space, the team at Enhanced Outdoor Lighting & Design can help! We have served countless residential and commercial clients over the years, helping them elevate the look and feel of their space. Contact us today for more information on our services or to schedule a consultation with our design team.