Phone Number: (210) 865-2931
Hours of Operation: Monday to Friday 7 AM to 5 PM
World Class Lighting and Design in Hollywood Park, Texas
Our family-owned and operated business helps commercial and residential clients create incredible lighting designs that bring out the best in their landscapes. We use high-quality LED lights that are warranty-backed, so you know your investment is protected.
Our company believes in treating the customer right, and that is reflected in our service. When you work with us to add light to your landscape, one of our talented designers will get to know your property and how best to bring out its hidden potential. In 2017 we were honored with the Kichler Lighting Western Region Contractor of the Year award and have maintained an A+ rating with the Better Business Bureau. In addition to outstanding lighting, we also sell, arrange, and install incredible Sound By Vista landscape audio systems.  
Services Offered to the Town of Hollywood Park, Texas
Outdoor Security Light Design, Installation, Repair, and Service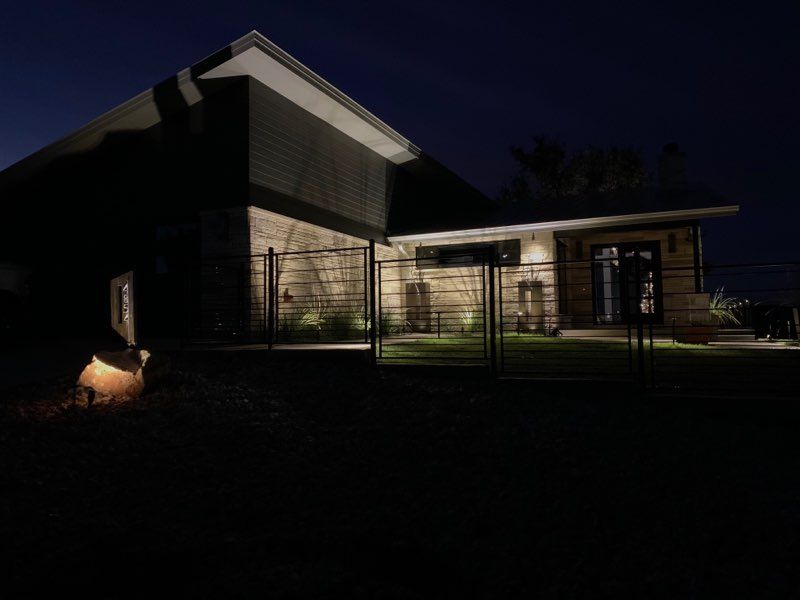 When used in conjunction with other security systems, outdoor security lights can be a useful tool for protecting your property. At Enhanced Outdoor Lighting & Design, we provide outdoor security lighting for residential and commercial applications. One of our skilled designers can create an outdoor security lighting setup utilizing high-quality LED lights that also looks appealing. We don't only design outdoor security light setups; we also install, service, and repair them as well.
Outdoor Garage Light Design, Installation, Repair, and Service
Outdoor garage lights not only highlight the look of your garage but also increase visibility, making getting around easier. With vehicles coming and going, outdoor garage lighting can increase safety by potentially alerting homeowners to guests or trespassers, animals, and objects.
Whether you are leaving for work before sunrise or coming home after sunset, you'll appreciate the welcoming sight of outdoor garage lighting. Outdoor garage lighting can also increase your home's curb appeal. There are multiple lighting setups you can utilize for outdoor garage lighting. At Enhanced Outdoor Lighting & Design, we design, install, service, and repair outdoor garage lights.
Landscape Audio Sales, Design, and Installation
Elevate your yard experience with an outstanding Sound by Vista landscape audio system. Not only do we install Sound by Vista, but we also position it to help it sound great. This high-quality audio system is made in America and provides exceptional sound. 
The Sound by Vista system is easy to use and is Wi-Fi capable. It blends in with your landscape so as not to detract from its beauty. The system has native streaming and can integrate with Bluetooth. It also works with Airplay 2, Chromecast, Siri, Spotify Connect, and Voice Control with Google Home Assist. Whether you want to listen to your favorite music or the big game, Sound by Vista is a great way to hear it.
Local Resources and Events for Hollywood Park, Texas
When you're ready for amazing lights or beautiful sound, contact us and receive a free estimate!