Contact Enhanced Outdoor Lighting & Design in Elgin, Texas
Enhanced Outdoor Lighting & Design
Hours of Operation:
Monday-Friday: 7 AM – 5 PM
Saturday and Sunday: Closed
Outdoor Lighting & Design in Elgin, Texas
Enhanced Outdoor Lighting & Design is Elgin, Texas's premier expert for all residential and commercial outdoor lighting installation and maintenance. Our spectacular design team has a keen eye that can help enhance the natural beauty of your outdoor space and turn it into an immaculate haven for you and your family. From patio lighting to garden lighting, we have the perfect solutions for your outdoor lighting needs.
Enhanced Outdoor Lighting & Design is proud to be a family-owned and operated business. We offer unparalleled customer service, treating each client like family and each home as if it were our own. It is our mission to create superior outdoor lighting designs that tie together your outdoor living spaces, make your landscape safer for family and guests, and take your breath away. With years of experience in the trade, we know the right styles, fixtures, and how to place them to make your outdoor space into a living piece of art.
All of our LED fixtures are backed by a 15-year warranty or a 40,000-hour lamp life warranty. All of our 'retrofit' or upgradeable, replaceable LED lamps come with a 6-year warranty.
Services We Offer the City of Elgin, Texas
Affordable LED Outdoor Lighting for Elgin, Texas
LED outdoor lighting is the perfect solution for the outdoor conditions around your Elgin home or commercial business. LED's provide an eco-friendly and environmentally friendly solution. Not only do they cut down on your energy costs, but they do not have to be replaced as often as incandescent bulbs. Enhanced Outdoor Lighting & Design is one of the top providers of LED outdoor lighting in the Elgin, Texas area. Contact us today for more information on our LED Outdoor Lighting solutions.
Garden Lighting to Compliment Your Prized Plants in Elgin, Texas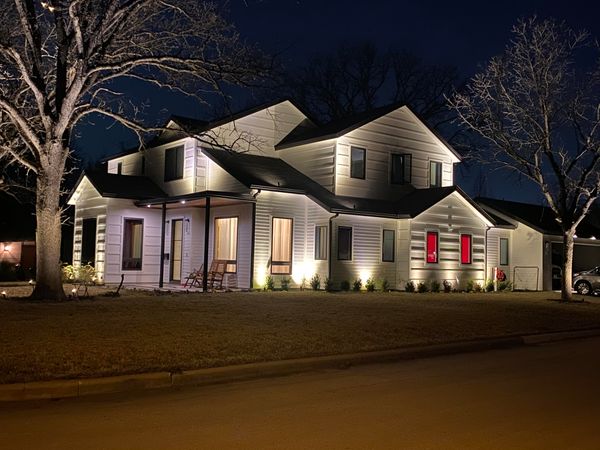 Garden lighting can be used for many purposes and benefits, especially highlighting your beautiful plants and landscaping. Taking a stroll around your garden at night and allowing yourself to become lost in the magnificent colors and scents of your plants is like something out of a dream. Properly installed and expertly designed garden lighting can turn this dream into a reality by trusting Enhanced Outdoor Lighting.
Create a Welcoming Space With Patio Outdoor Lighting in Elgin, Texas
A patio can be the perfect extension of your home with a beautiful seating area, outdoor fireplace, outdoor kitchen, or outdoor dining area. Patio lighting can be used to amplify the beauty of your patio while providing an extra layer of security to chase away shadows and reduce tripping hazards.
Patio lighting can also help show off the architectural beauty of your home and provide the perfect atmosphere to have a quiet dinner outside with family and friends. Enjoy a nice book under the stars or a glass of wine. Whatever you plan to use your patio for, Enhanced Outdoor Lighting & Design can help you come up with the perfect lighting solution.
Resources for the City of Elgin, Texas

Enhanced Outdoor Lighting & Design is proud to serve the residential and commercial clients for Elgin, Texas, and the surrounding communities such as Austin, Bastrop, and Cedar Creek. Contact our team for more information on our services or to schedule an appointment with our design team!
Local Reviews
for Elgin, TX
---